Cryptocurrency Marketing Guide: How to start an effective campaign?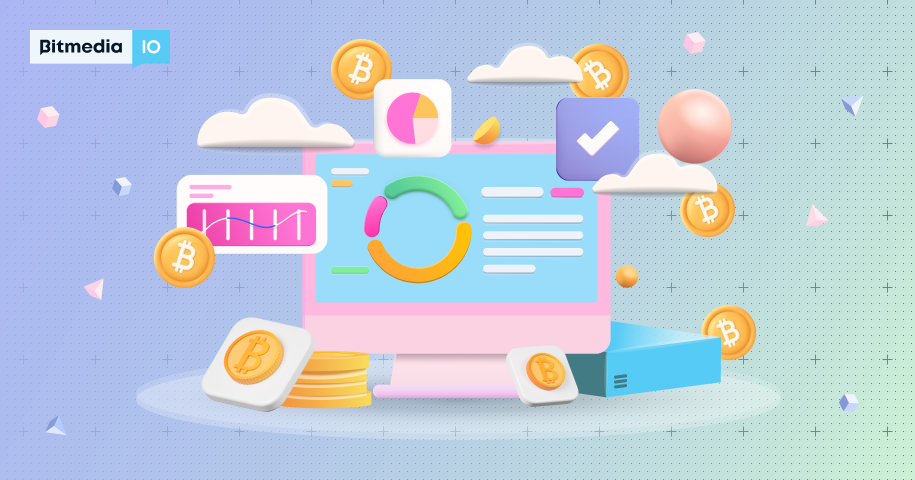 Over the past few years, the crypto industry has experienced enormous growth and is expected to cross $20 billion by 2025. However, while the opportunities are exciting, the competition will be fierce. The only solution is to have a well-defined crypto marketing strategy.
If you own a crypto business or are planning to start one, this article is for you. In this in-depth guide, we will discuss what crypto marketing is and strategies that you can implement to make your crypto project a success.
What is Crypto Marketing?
Crypto marketing is promoting and selling cryptocurrency or blockchain-related products and services. Cryptocurrency marketing includes building brand awareness, acquiring users, retaining customers, and driving growth. Popular crypto marketing strategies involve airdrops, SEO, crypto content marketing, influencer marketing, social media management, and organizing events.
How Can I Improve My Crypto Marketing Strategy?
Crypto marketing is pretty different from traditional marketing. For instance, the crypto market consists of new and complex terminologies, and the marketing is generally community-centered. So, if you are used to traditional marketing methods, you must rethink how you want to promote your crypto business. You need to take advantage of the fully digital market and the strong online communities.
Bitmedia.io is a crypto ad network and crypto marketing company that provides a huge range of services for its customers. Besides banner ads, Bitmedia offers some of the most popular crypto marketing strategies like content marketing (article writing, content, and PR distribution) and influencer marketing (promotion on Twitter, YouTube, Telegram, Reddit, and TikTok).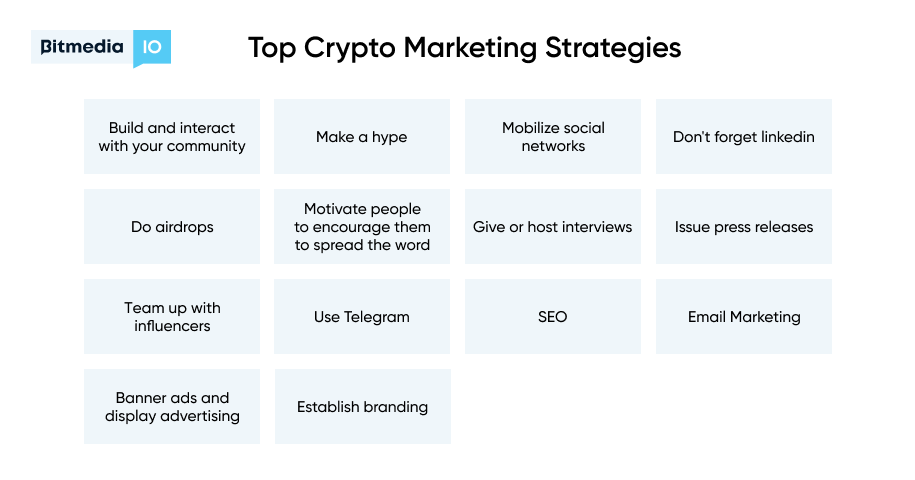 How to do an Airdrop in Crypto Marketing?
Airdropping is a crypto marketing strategy where you distribute free tokens to your users. Moreover, airdrops are an effective way of distributing your cryptocurrency token to the maximum number of people and generating initial liquidity. Airdrops are a great way to promote your next drop to potential consumers and reward your supporters. This will also motivate community members to become more active and do more to promote your project further.
Doing airdrop campaigns helps in the following:
Building Loyalty – The early adopters will be your most loyal supporters as they will get special treatment and privileges being an early adopter.
Spreading the Word – Airdrops provide financial incentives to early adopters and freebie lovers to spread the word about your project, as their profits depend on the popularity of the token.
Also, you can promote your airdrops using airdrop calendars, websites that provide information on future airdrops.
How to Use SEO in Crypto Marketing?
Search Engine Optimization, or SEO, has always been a cornerstone of digital marketing. These days most people search online to find information and services, so it's important to build an online presence and promote your crypto project online. Hence, SEO remains one of the most important aspects of any crypto marketing strategy.
Moreover, SEO is the least expensive and most effective among all the crypto marketing strategies we discuss in this article. If your target audience is looking for your project online and you're not visible, that's missing out on a large amount of organic traffic and potential leads. Here are some tactics you can use to direct valuable traffic to your crypto business:
Research your target niche and use relevant search terms appropriately.
Find the search terms used by market leaders and your competitors.
Incorporate related long-tail search terms in your website.
Keep track of search term trends for new opportunities.
The easier way would be to hire a crypto marketing company like Bitmedia.io. Unlike most crypto marketing companies that are too slow to deliver results, Bitmedia has a profound understanding of how to do SEO for crypto.
Paid Banner Ads
The best marketing is omnichannel marketing, and banner ads usually play an incremental role in it. Content, social and SEO marketing are used to set the right foundation for your marketing endeavors, whilst paid ads are known to create instant conversions.
This is where Bitmedia crypto ad network comes in, as we broadcast your banners to over 6000 crypto and non-crypto news publications. Bitmedia is known for how precise its platform allows marketing managers to be, whilst in-depth reporting allows for instant performance reviews and adjustments.
Even if there is no dedicated marketing specialist on your team, your Bitmedia account manager will help you configure your paid ads campaign and tailor it for maximum effectiveness.
Why is it Important to Use Crypto Content marketing?
The crypto world is pretty new and complex, so much content is needed to educate people about the technology. Due to the financial potential of the market, people are also constantly looking for the latest information. Hence, you can attract a lot of potential leads to your business if your crypto content appears on Google search results, social media feeds, and in communities.
Furthermore, you can build authority and trust with your content if you can guide them through the crypto market. Your content can lead people to choose your business over a competitor if you know what you are talking about.
The easiest way to do content marketing is by creating a blog on your website. People who come across your blog will naturally discover your website and what you offer. Here are some content suggestions that work well for a crypto blog:
Detailed beginner guides
Articles discussing the popular trends in the crypto industry
Q&As
An up-to-date crypto glossary
Tips and tricks for the crypto market
Is Social Media Still Working in Crypto marketing?
Social media is one of the most important tools for any crypto marketing strategy. It can help you connect with your audience, build relationships, and increase brand awareness. However, you need to be active on the right platforms. Not all social media platforms are created equal; some are better for marketing cryptocurrency than others.
For instance, Facebook is more popular amongst the older generation, who are now catching up with the digital transition. Meanwhile, the younger generation mostly uses Snapchat and Instagram and might not have the means to get into crypto. Similarly, Linkedin is a better choice for targeting a more professional audience.
But, as for most blockchain projects, you should focus on Twitter! With great blockchain leaders expressing their views on Twitter, the platform has acquired a large base of crypto enthusiasts and promoters. In addition, Discord has also gained popularity among crypto enthusiasts and is widely used for crypto promotion. Apart from this, you can also use Telegram to connect with your audience informally.
How to Organize Events?
Crypto events and conferences offer a great way to network and build relationships with potential investors and customers. Commonly, these events attract many attendees so that you can reach a large audience. For your blockchain marketing strategy, you can either participate by setting up a booth, sponsoring the event, or being on the event panel.
In addition, events and conferences can help you build relationships with media outlets, crypto influencers, and other projects. Down the line, these relationships can prove to be greatly beneficial to your crypto promotion. However, the participation cost is pretty high, so ensure the return on investment is good.
Organizing events is easy with Bitmedia. In fact, Bitmedia is the media partner for most crypto events in Europe and the world. Also, Bitmedia is an active participant in blockchain events like WOW Summit, WebSummit, Bitcoin Summit, and many more.
Here are some general guidelines for marketing a cryptocurrency:
Identify your target audience: Before starting any marketing campaign, it's important to know who you are trying to reach. Consider the demographic and psychographic characteristics of your target audience, such as age, income, interests, values, and behaviors.
Develop a clear message: Your marketing message should be concise, memorable, and compelling. It should clearly communicate the unique value proposition of your cryptocurrency and how it solves a problem or fulfills a need in the market.
Leverage social media: Social media is a powerful tool for reaching your target audience and building brand awareness. Identify which social media platforms your target audience uses and develop a social media strategy to engage with them.
Build a community: Creating a strong community around your cryptocurrency can help increase adoption and build trust. This can be done through forums, social media groups, or even in-person events.
Partner with influencers: Influencer marketing can be a highly effective way to reach a large audience quickly. Identify influencers in your target market and work with them to promote your cryptocurrency.
Offer incentives: Incentives such as discounts, rewards, or referral programs can motivate users to adopt your cryptocurrency and spread the word.
Create educational content: Many people are still unfamiliar with cryptocurrency and may need education before they feel comfortable using it. Create educational content such as blog posts, videos, or tutorials to help your audience better understand your cryptocurrency and how to use it.
Engage with the media: Getting coverage in the media can help increase awareness and credibility for your cryptocurrency. Contact relevant media outlets and offer them a unique angle or story related to your cryptocurrency.
Attend industry events: Attending industry events such as conferences or meetups can help you network with other professionals in the industry and gain visibility for your cryptocurrency.
Be transparent: Transparency is vital in the cryptocurrency industry. Be open about your team, technology, and roadmap to build trust with your audience and investors.
Overall, marketing a cryptocurrency requires a strategic approach that focuses on building trust, educating your audience, and creating a strong community. By following these guidelines, you can increase adoption and grow your cryptocurrency's value over time.
Closing Words
In 2021 alone, over 2000 cryptocurrencies failed, and hundreds of blockchain companies are shutting down every month. However, the growth potential of the global crypto market is still enormous. If you don't want to be another name in the sea of dead crypto companies, you should start investing in a long-term crypto promotion strategy.
There are several benefits of hiring a crypto marketing agency like Bitmedia. Firstly, you get to access our vast ad network and crypto influencers. This way, you can save a lot of time and energy that you need to spend to build these relationships from scratch. With Bitmedia's team of experienced professionals, we will create and execute a comprehensive marketing strategy to make your crypto business successful.
Let's start you crypto ad campaign!