How Twitter helps to promote Crypto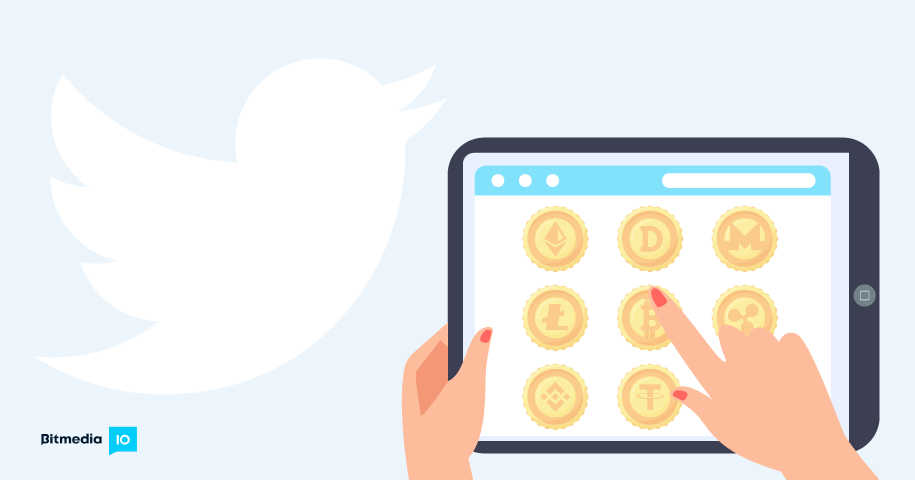 As one of the biggest social media platforms, Twitter has become the go-to place for everything related to crypto. Whether you are looking for crypto news updates or memes, Twitter is the answer! So, why not use Twitter to market your crypto project to a larger audience and increase your brand exposure? If you don't know how, we got your back!
Crypto projects are launched daily, and the competition is therefore quite stiff. Getting the word out about your crypto project has become crucial for surviving and growing in the cutthroat market. Therefore, you must leverage all possible marketing channels, including social media platforms.
Twitter can be a powerful tool for promoting cryptocurrency in several ways:
Influencers: There are many influential individuals on Twitter who are active in the crypto space. These individuals, known as crypto influencers, can help promote and raise awareness of cryptocurrencies through their tweets and engagement with their followers.
News and Updates: Twitter is a popular platform for sharing news and updates related to cryptocurrency. Crypto companies, media outlets, and individuals often share breaking news and insights related to the market and industry trends.
Community Building: Twitter is also an effective tool for building and engaging with communities of crypto enthusiasts. These communities can help promote specific cryptocurrencies and share knowledge and insights with each other.
Advertising: Twitter also offers advertising options for cryptocurrency companies, allowing them to reach a targeted audience of users interested in cryptocurrency.
Education: Finally, Twitter can be an excellent platform for educating individuals about cryptocurrency. Experts and enthusiasts can share educational resources, answer questions, and engage in discussions to help people better understand the technology and its potential benefits.
Twitter can be an effective tool for promoting and raising cryptocurrency awareness, engaging with the community, and sharing news and updates.
While Twitter has banned crypto ads, you can still focus your marketing efforts around the platform's tools and create hype, or a place a loyal community is built on. With over 330 million active users worldwide, Twitter is remains to be the go to place for crypto communities.
With this in mind, let's see how to maximize the effectiveness of the tools provided by Twitter, and reach more users with the right non-paid marketing campaign.
1. Update Your Twitter Bio
The first step is to have a proper Twitter bio that tells people who you are and what you do. Keep in mind that it should be short and to the point. You can find some examples below:
A good Twitter bio should mention the sector you are targeting and have some relevant hashtags. The key is to use a maximum of 2-3 hashtags, as anything more will make your profile look suspicious. A good way is to use keywords from your competitors who successfully convert users via Twitter.
Also, don't forget to link your website on your Twitter bio so potential users can conveniently access your site. Twitter accounts usually get a lot of impressions, and not using them wisely would be such a waste.
2. Host Crypto Giveaways, Bounties as Marketing Campaigns
Doing giveaways has been one of the oldest tricks around, and it works! While relatively costly, it is the most effective way to increase brand awareness and maximize user engagement.
Moreover, you can also incentivize your giveaways by other means, such as non-fungible tokens (NFTs). Or you can also do giveaways specific to your crypto project's goals and requirements. But no matter what you do, the focus should be on getting a proper return on investment on the monetary costs.
However, effectively implementing a marketing campaign on Twitter can take a lot of work, especially if you are new. Hence, using a crypto ad network like Bitmedia to take care of your marketing campaigns is a good idea. Bitmedia's services are pocket-friendly, and you can start advertising your crypto project for as little as $100!
3. Publish Organic Crypto Content
Publishing informative and interesting crypto content is crucial to grow your crypto project organically. While you can get Twitter followers with various marketing campaigns, you mustn't overdo it. You can get a good understanding by analyzing how hyped your crypto project is by comparing the number of holders with the number of followers you have.
4. Increase Crypto Twitter Engagement
Once you have set up your Twitter page and got a few followers, the next important question is what to post. The key is to focus on more than just your crypto project and do so very consistently. While it is important to constantly share updates about your project, keeping the community updated on other things is just as important.
You can approach this step by commenting on the latest updates and events within the crypto community. On Twitter, you can always find trending news on crypto that you can leverage to your advantage. It will help improve your impressions and attract more people from the crypto community to check out your crypto project. Furthermore, this also greatly improves your user outreach and SEO.
5. Use Pinned Tweets to Increase Crypto Twitter Exposure
Once your crypto project's Twitter page is getting some visitors, it's time to have a pinned tweet. On Twitter, if you pin a tweet, it will be the first thing someone will see while visiting your profile. Successful brands generally pin the latest update about their crypto project to make that tweet more visible.
You should fully utilize your crypto project's Twitter page to showcase the latest developments.
6. Start the Next Crypto Trend and Build Hype
In crypto, the community is integral to the success of any project. In fact, there is a cost-free way to use your crypto community to do the Twitter marketing work for you! This is known as decentralized marketing, and many projects have successfully pulled it off. For instance, Dogecoin became a massive hit due to famous holders like Elon Musk sharing its memes.
The key is to use your community members as ambassadors for your crypto project and share memes and videos of your project. Accordingly, more people will start mentioning your crypto project, which will significantly boost your Twitter engagement.
Using social intelligence sites like LunarCrush, you can track how well your crypto project is faring. This way, you can also track what kind of content gives your crypto project the most engagement.
7. Use Crypto Influencer Marketing and PR Press Mentions
In the crypto community, influencers wield much control over the market. Just one tweet from them is enough to reach worldwide news. The attention will automatically push your popularity to the next level if you can get popular crypto influencers to talk about your project.
Also, it is more effective if you use crypto influencers focussed on your niche and target audience. Commenting and engaging with their posts is also an excellent way to divert some traffic to your project. You don't necessarily need to comment about your project, instead, have some organic discussions if possible.
Final Say
Whatever marketing strategy you use, ensure that it aligns with your project's objective. If you're unsure which strategy will suit your project the best, it's always a good idea to experiment. With hundreds of new crypto projects launching daily, it is imperative to focus on brand differentiation to succeed.
However, marketing in crypto is as fast changing as the market itself. What might have worked a few months back might not work today, so you must stay updated with the latest industry trends. While making a crypto project has become much easier, staying relevant can be quite a headache. Hence, using a crypto marketing platform like Bitmedia could be beneficial, especially if you're a beginner.
Bitmedia is a crypto ad network that distributes banner marketing campaigns across over 6000 different publications. Similarly, publishers can also earn from banner placements. With Bitmedia, you get advanced targeting options like geos, ad reruns, frequency cap, and white and black lists. Hence, it can significantly increase your return on investment (ROI) and brand exposure a cost-effective way!
Promo on Twitter