The Why and How of Email Marketing For Crypto Projects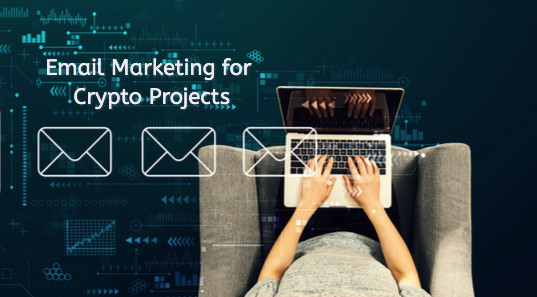 Email marketing has remained a bedrock for several businesses in the last decade. Companies use emails to send personalised content to their subscribers, give updates on how the business is faring, and get commitments that lead to action. Email is the third most influential source of information for B2B audiences, per data from Wordstream.
Crypto projects are turning their attention to this communication medium as email marketing is becoming a primary means to nurture leads and engage customers is becoming a primary means to nurture leads and engage customers
However, several regulatory actions have beset the crypto space, with a few world governments taking particular interest in ostracising all crypto-related activities. One of such is Asian giant China, which unanimously banned cryptocurrencies and crypto mining in its regions. Tech giants like Google, Facebook, and even video sharing platform YouTube have introduced new policies restricting crypto ads on their platforms.
Email Marketing – A Good Backup For New Crypto Projects (Including DeFi, NFT, P2E)
Cryptocurrency has enjoyed remarkable adoption globally, with crypto bellwether Bitcoin becoming a legal tender in El Salvador. Other key sub-sectors like decentralised finance (DeFi), non-fungible tokens (NFTs), and rising star play-to-earn (P2E) ecosystems have boomed, making it one of the fastest-growing ecosystems.
The growing interest in crypto makes email marketing an effective channel to publicise your crypto project despite regulatory hurdles.
Combining email marketing with other marketing channels will turbo-charge your crypto project and give you the needed leverage to scale even faster. We provide a few successful tips you can use to achieve your end-of-the-year target.
Collect Email Addresses Of Potential Clients/Players
The first step will be to get the email addresses of those interested in your crypto project, which is quite easy to accomplish. Attach a subscription form to your landing page and state clearly what a potential subscriber will benefit from signing up for your content.
This information can include a potential timeline or roadmap on how the crypto project is faring and other useful information. This way, you can build a more sustainable relationship with your subscribers and even convert them to your loudest cheerleaders.
Segment Your Subscriber List
The next area of focus is to categorise your subscribers into different lists. To help with this task, ensure you provide on the subscription form an option for your subscribers to choose the preferred language they want to receive your emails.
Another method would be to create a multilingual landing page that offers a language-specific signup form for each subscriber. When this information gets to you, curate every subscriber according to their language preference. This approach will help you pitch your crypto project in a language your subscriber understands.
Inform About Updates And Changes
Getting their email addresses is one battle won. However, you still have to give them regular updates about how your crypto project is faring. This stage is no time to leave your subscribers assuming what is going on with the project.
Provide monthly, quarterly, or even bi-weekly updates and likely changes on the company's mission and vision. If there is a need to revisit the whitepaper, make sure your community of loyal subscribers are informed. Inform them through email if you feel the company should head in a new direction so they don't get sidelined. This way, your subscribers will be carried along as the project unfolds.
Stay In Touch With Your Community
Stay in touch with your community members and use the most active channels to bond with them. Remember that they picked you above other crypto projects, and you need to repay that trust.
If your crypto project hits a major milestone, let them be the first to know it and not stumble across it on a social media channel. Treat them like kings and queens, for that is what they are.
Reasons To Use Email Marketing To Increase Traffic And Client Retention
Many crypto projects turn to social media channels like Reddit, Twitter, and others to pitch their ideas. While this is effective, it plays second fiddle to the engagement numbers you can unlock with email marketing.
These are some of the benefits you get with email marketing:
– Low Cost
Email services providers (ESPs) are increasingly looking for ways to cut down on their fees and give more value to their customers. This is why in today's world, email marketing is cost-effective, and you can use the extra savings realised from patronising email services providers to supercharge other marketing channels.
– Active
Email marketing is one of the most robust means of getting across to your audience. This communication channel allows for each email to be fine-tuned to meet a particular purpose or criteria. This medium is unlike a landing page which takes a lot of time in framing. Email banners, graphics, photos, or even videos can be fixed and sent to your target audience.
– Customisable
Your customers want to be seen as individuals, not data on your spreadsheet. Personalized emails are more likely to be opened as they stand out in the customer's inbox than generic costs-per-click (CPC) ads. The first step in personalizing your message is to segment your list. According to MailChimp's data, segmented emails receive 68.4% more clicks compared to non-segmented ones. Segmented emails are emails designed and loaded with useful information for a particular audience. These emails are relevant and worthy of the reader's time.
– Easy-To-Track
Email marketing allows you to easily measure your expected outcome since your efforts are more targeted than writing a social media post. Once your email marketing campaign is sent out, tools like Klenty supply you with critical campaign information line opens, link clicks and so on. This way you learn what works and what doesn't, making every new campaign hugely more effective.
– Time-Saver
Using emails to reach your audience will save you 70% of the valuable time you can spend further improving your project or brainstorming new ideas. We recommend using email marketing to supercharge the success of your crypto project today.
Final words
Marketing should always be omnichannel. Whilst display ads distributed by Bitmedia act as the main vehicle for conversions and brand awareness, email marketing lets you keep in touch with existing users and supply project-related content to the new prospects. Remember that the more marketing tools you use, the greater will your chances be to create a real and active community around your product and NOTHING beats a good community!
Start Promote Crypto!