Why Paid Ads are More Important in Web3 – Part 1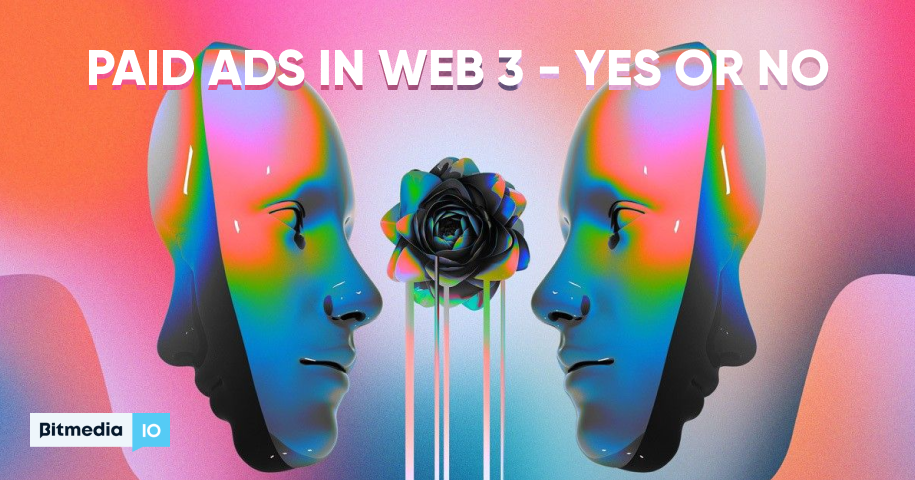 Paid ads are a core part of any advertising and brand awareness campaign, but in the web3 world, these often-forgotten gems could be the make-or-break part for your project. With the right targeting and format, you could become a top 10 project overnight.
Does Paid Ad Work in Web3?
Paid ads work well in all industries, but in web3 that is saturated in all traditional media channels, paid ads will make you stand out from the crowd. By utilizing carefully crafted web3 paid ad campaigns, you'll be able to branch out your project's reach to untapped areas, helping you pick up way more users and increase brand recognition.
By taking full advantage of the dozens of refinement tools available on popular web3 paid ad platforms, such as Bitmedia, you'll be able to tweak your paid ad campaign to perfection, getting you the perfect balance between brand awareness and lead conversion optimization!
Paid Advertising Types in Web3
– Paid Social
Paid Social advertising is often the only paid ad spend that you see in the web3 space, and that's because it's the obvious place. These types of ads are the ones you'll see on Reddit, Facebook and even Twitter. However, with tight advertising rules and ad suppression, these can often prove to be less effective.
– Paid Search Engine (SEM)
Getting to the top of Google and other search engines requires a ton of work, time, knowledge and experience. So, Web3 projects opt for paid search engine ads. This results in them taking the top few spots on the search engines, think of it like a cheat sheet to get the top. This is far more cost effective than delving into the intricacies of SEO and all that fun stuff. There are multiple positions, keywords, placements, and styles available with this type of marketing, giving your web3 project a clear shot to the top!
– Banner Ads
Banner ads are a great way to get your web3 project seen by as many eyes as possible in the right places. Content creators, such as bloggers, can slide in a small snippet of code on their blog that allows your ads to be shown right there on their website, getting the eyeballs of all their traffic. By teaming up with a paid ad network, you don't need to contact each blog separately. Simply set up your paid banner ad campaign, set your parameters for your ideal viewer, and the algorithm will do the rest for you. This saves you time and money. Banner ads are a surefire winner for your web3 project.
– Native Ads
Native ads are fantastic for web3 projects as they blend seamlessly with regular content, often disguising their true intent quite nicely. This is perfect if you're worried that your target audience might have ad fatigue and not be responding optimally to your other ad methods. You can team up with paid ad networks or bloggers to help you achieve your native ad goals. Paid ad networks, like Bitmedia, give you a broader reach and do all the heavy lifting, making them a prime choice for any web3 company looking to expand their reach and user base.
Benefits of Using Paid Advertising – Part 1
– Greater Reach
Relying on hype alone to drive your project and brand awareness is foolish. There are thousands of other web3 projects out there all doing the same tactic. By using paid advertising, you can make your reach explode in a short space of time. By using advanced paid advertising tools, you can refine and fine tune your paid ad campaign to reach your ideal user, meaning that they're more likely to stick around and be your new diamond hands members, rather than paper hands. That means a more robust and loyal community!
– Targeted Advertising
When you just shoot noise out into the internet via Twitter, Discord, YouTube, and Reddit, a lot of it is wasted. You're playing the numbers game hoping that someone sees your content. That just isn't effective and you're going to lose to your competitors. So, fire up a hyper-targeted display ad campaign and you're more likely to convert viewers into community members than ever before. By setting the campaign up for your ideal user, you can ensure that your spend is used in the most effective way to help your web3 project grow in all dimensions.
Get Ready for Part 2…
That's all for part 1 of why paid ads are important in web3. But fear not, part 2 is just a click away! Go refill your mug and join us for part 2!
It's time for advertising!