Press Release Distribution Strategies in the Crypto Industry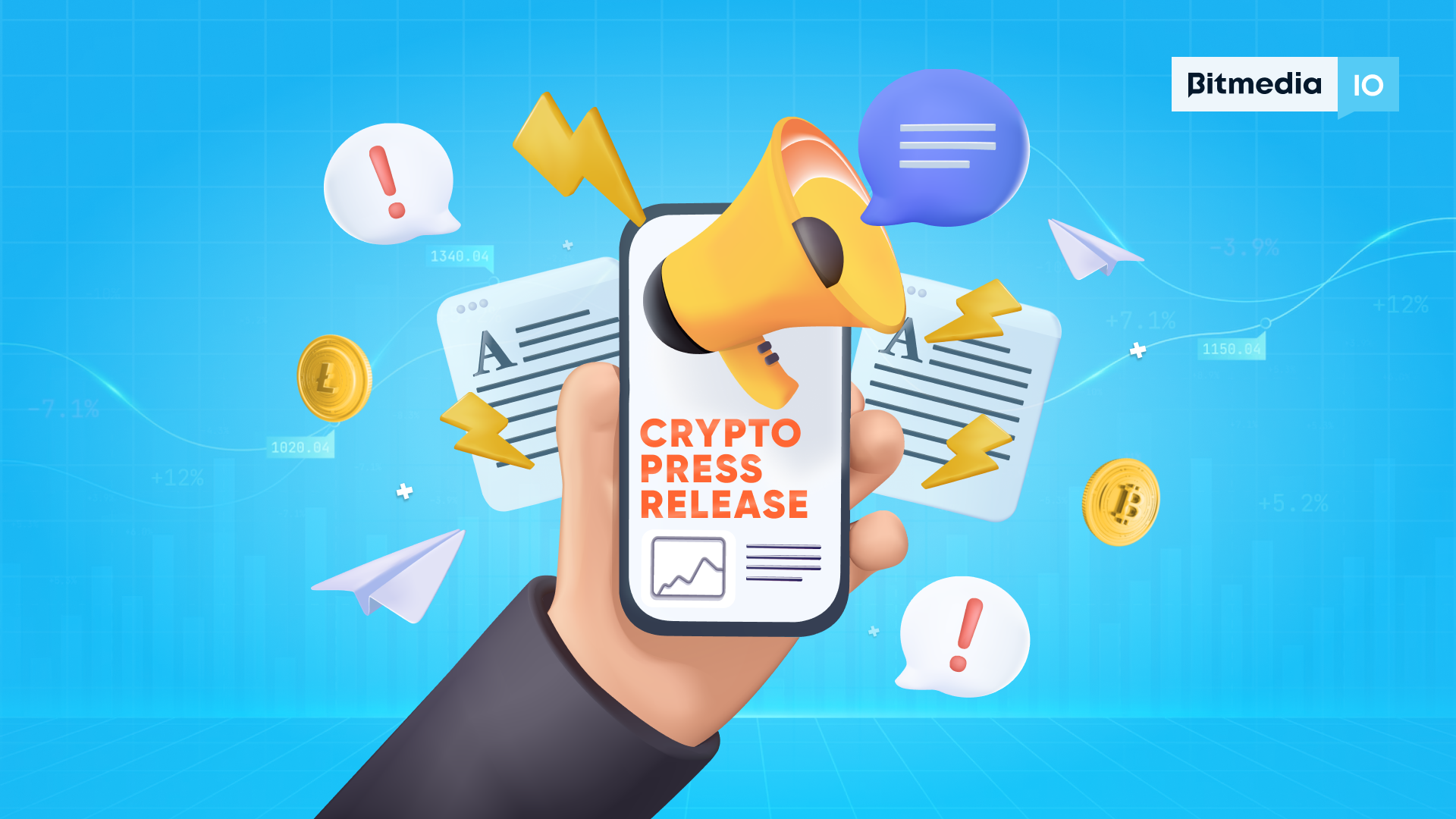 Nowadays when innovation and market trends shift overnight, well-written press releases play a pivotal role. They grab attention, spark curiosity, and make a lasting impact. The impact goes beyond words: 68% of businesses report increased brand visibility due to well-distributed press releases. This statistic highlights the tool's power. Now, let's explore effective methods for distributing press releases in the dynamic landscape of the crypto industry.
Crafting an Effective Distribution Plan
In a world where information travels at the speed of light, capturing your audience's attention is a fleeting opportunity. Nearly a third of journalists are bombarded with over 100 pitches every week. The well-orchestrated distribution plan is the foundation of your press release's success. In this section, we explore creating a press release and distribution plan that seamlessly translates your message to the right audience. It ensures your message doesn't merely enter the newswire but resonates deeply.
Addressing Your Press Release Goals
Before setting out on your press release distribution expedition, ensure you have a crystal-clear grasp of your objectives. These could include:
A blockchain solution;
An NFT collection;
Announcing a strategic partnership;
Introducing a pioneering cryptocurrency;
Sharing insights into your project's milestones and achievements and more.
By defining your press release goals, you lay the foundation for a targeted and effective distribution strategy that resonates with your desired audience.
Tailoring Your Message for Target Audiences
In the vast world of cryptocurrencies, diverse communities converge – from seasoned investors to tech enthusiasts. Just as different cryptocurrencies serve distinct purposes, your press release must resonate uniquely with each segment of your audience. The importance of message customization cannot be overstated.
Consider tailored approaches to attract different audience groups. For example, for tech enthusiasts and developers, highlight technological innovations underpinning your crypto project. By crafting a press release that speaks directly to the heart of each audience segment, you enter the domain of impactful communication.
Collaborating With Distribution Experts
Navigating the labyrinthine avenues of press release distribution can be a daunting task. This is where the experts step in, poised to guide your message through the digital maze. Further in the text, we uncover the advantages of strategic collaborations and how aligning with professionals can amplify your press release's reach and influence.
Partnering for Seamless Distribution
Collaborating with seasoned crypto PR agencies serves as your ticket to the newswire. With their profound understanding of the crypto landscape, they can help navigate industry nuances, ensuring your press release strikes a chord with your target audience.
The expert crypto advertising agencies bring a wealth of experience, leveraging their networks and connections to amplify your reach. Your press release, infused with their industry insights, gains a competitive edge amid the flood of information.
Choosing the Ideal Distribution Ally
Choosing the ideal distribution partner begins with an assessment of the agency's connections to top media. The ideal ally is one who successfully cooperates with reputable crypto news media and influencers that resonate within the crypto community.
As crypto enthusiasts turn to trusted news media, finding a partner who can seamlessly connect with these channels is essential. An adept distribution ally widens your reach through their well-established connections and partnerships, ensuring your message finds its way to the right audience.
Bitmedia is an influential force, offering expert distribution services within the crypto realm. With a proven history of amplifying crypto projects' reach, Bitmedia has built a network that extends across reputable crypto news media, influential bloggers, and engaged influencers. Collaborating with Bitmedia ensures your press release doesn't merely enter the digital space but resonates meaningfully within the crypto community.
Taking Charge of Distribution
Embracing a DIY approach to press release distribution offers a multifaceted range of benefits. As you take charge, you unlock the ability to customize every aspect of your distribution plan according to your project's identity and goals. You determine the distribution channels, the target audience, and the timing of your release.
Empowering DIY Press Release Distribution
One of the distinct advantages of DIY distribution is the opportunity for personal engagement. It's a journey that involves crafting a comprehensive strategy, curating a list of crypto-focused media outlets, forums, and blogs. It should align with your project's essence and appeal to your specific target audience.
Craft compelling headlines that pique interest and resonate with each platform's unique audience. Tailor your approach to the specific platform, whether it's a media hungry for groundbreaking news or a forum seeking in-depth discussions.
When it comes to ensuring your press release gets the attention it deserves, timing and day is everything. Research reveals that Monday to Wednesday are the prime days for press release delivery, maximizing your chances of capturing the spotlight.
Moreover, the timing within the day is equally crucial. Sending your press release before lunchtime, ideally around 9:46 am rather than the traditional on-the-hour or half-hour times, enhances its visibility. This strategic approach ensures your message stands out from the crowd and holds the audience's attention.
Best Way to Distribute Press Releases Leveraging Bitmedia's Expertise
In the ever-evolving crypto industry, effective press release distribution is crucial to standing out and gaining the attention your project deserves. Whether you opt for expert collaboration or take a DIY approach, strategic planning, tailored messaging, and targeted distribution will be your key allies.
Whether you're a startup or an established enterprise, Bitmedia provides the tools, resources, and know-how to elevate your crypto marketing efforts. Our PR and content distribution services can get your content published on top crypto websites worldwide. Let us help you promote, advertise, and attract leads, ensuring your crypto project achieves maximum visibility and engagement. Reach out to your account manager at Bitmedia.io to access the support and expertise needed to optimize your press release distribution.
Contact Bitmedia today, and let's drive your project to success!