Crypto Press Release Formatting Recommendations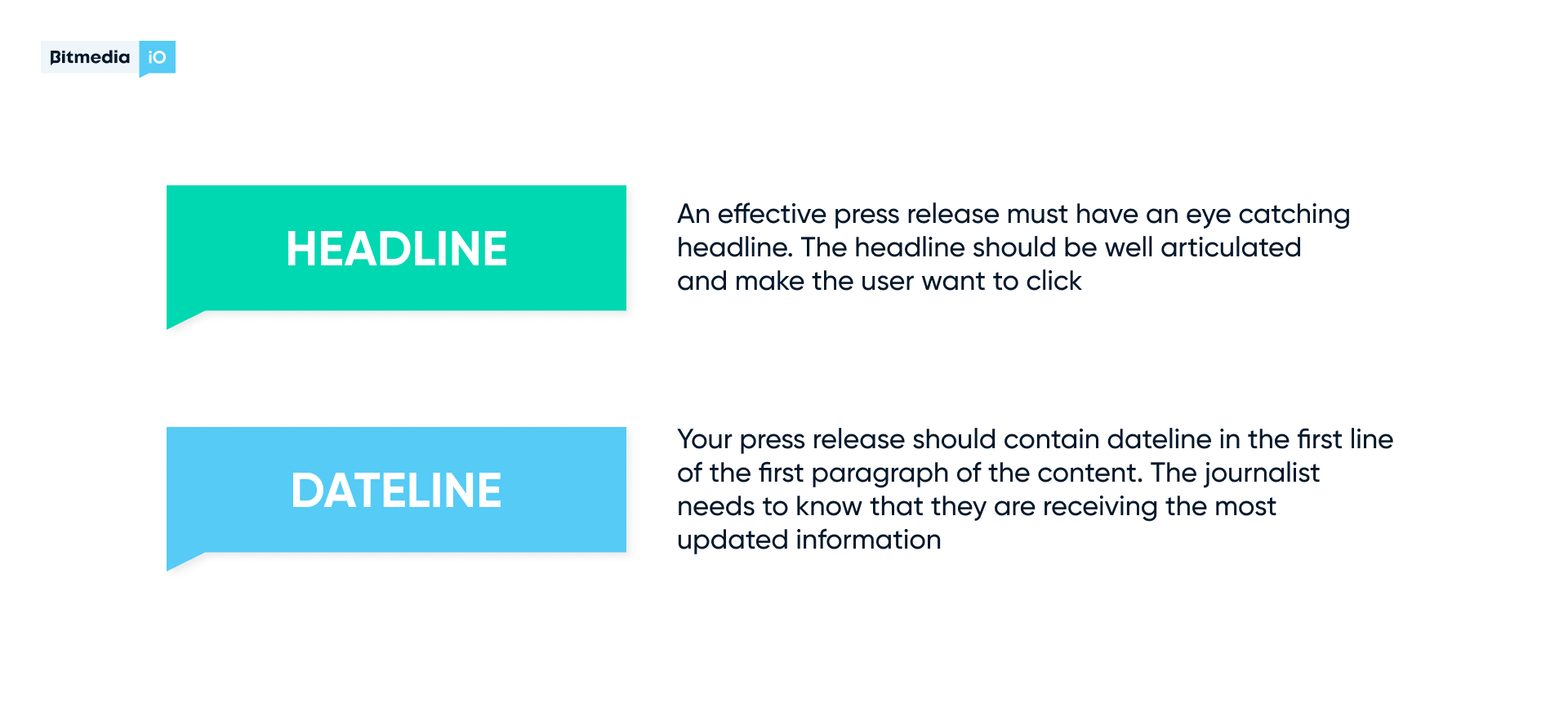 Every crypto press release submitted to our PR channels should follow these formatting guidelines:
Headlines should be short and focused (preferably 8 to 12 words) and should cover the most important aspect of the release.
The language must be simple and clear. All technical jargon should be properly defined for proper comprehension by the readers.
Your first paragraph should cover the most important aspect of your crypto press release. It should rightly answer the five Ws (who, what, where, when, and why).
Characters in the crypto press release should be capitalised based on the standard English grammar rules for capitalization.
Links should be used sparingly and periodically in the crypto press release.
Stipulate the expected publishing date if the crypto press release is not to be distributed immediately.
Keep the entire text of your crypto press release within one page. A crypto press release is meant to be a summary of an important announcement and not a lengthy text. Briefly provide cogent details about the release within a page for easy reading.
Company or project details should be inserted at the base for follow-up by interested readers and journalists.
Crypto Press Release Requirements
Please adhere to the following stipulated requirements to get your crypto press release published across our PR channels and website:
Uphold Objectivity
Your crypto press release should be objective and unbiased in its rollout of information. It should be professionally written and focused on providing the most information while sticking to generalised terms of engagement with your reader base.
Newsworthiness
A crypto press release sent in for publishing should be crucial enough to captivate the attention of the intended target audience. An interesting crypto press release should cover milestones, events, product launches or service upgrades the target audience would be interested in.
Credible Source
All quoted data or statements must be from publicly accepted and recognised entities or institutions. Personal opinions or subjective data review sources would not be accepted for publication across our crypto PR channels.
Written Consent And/Or Authorisation
When you are using another crypto project's intellectual property (eg., a ticker symbol or logo), endeavour to have written consent or authorisation from the crypto project before sending in your crypto press release.
Fact-Checked
All important data and information should be fact-checked to ensure their accuracy at the time of submission. If the crypto press release is scheduled for a later date and there is a change in the facts or data included, a follow-up release should be sent in before the publishing date to update the affected parts.
Accurate Grammar And Spelling
Crypto press releases should follow the standard grammatical rules binding the use of the English language. Your forwarded crypto release should have zero errors and spelling mistakes. Ensure your crypto press release adopts the expected spelling standard for your target audience. For instance, a crypto press release targeted at the US audience should have American spelling standards instead of British spelling standards.
Contact Information
The corporate website, email address, official company number, and company address should be inserted at the bottom of your crypto press release. A crypto press release can also feature the contact information of a top executive in the company or in the communications department.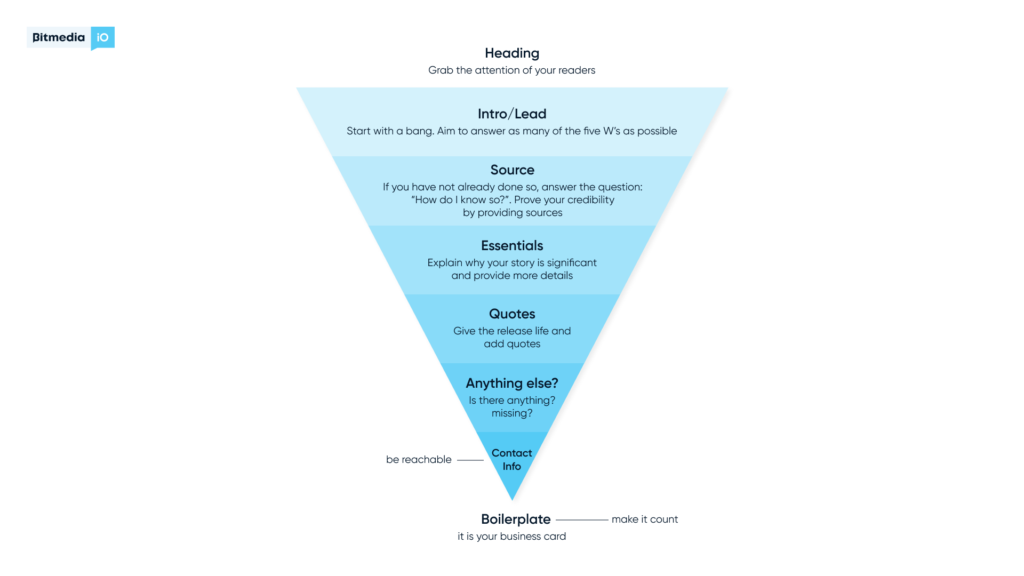 Bitmedia's Disallowed Topics
Bitmedia does not accept crypto press releases covering these topics:
Bitmedia does not accept crypto press releases that are spammy. We dislike all deceptive and excessively posted content and will not distribute such across our channels.
Bitmedia has a corporate image to protect and does not accept or publish sexually stirring or mature content. Your crypto press release should not link to any of such services or products or even reference them.
Bitmedia is a corporate crypto-ad marketplace that allows blockchain native companies to reach out to their target audience. We do not accept opinionated (op-ed) pieces.
We do not accept any content that is unethical or employs back-handed SEO practices. This covers crypto press releases that utilise Black Hat SEO services, products, and websites. Unethical SEO systems include keyword stuffing, link buying, and link selling. If we discover that a forwarded content employs any or all of these unethical methods, we reserve the right to take down the crypto press release at a moment's notice.
Bitmedia will not publish copyrighted content. All forwarded content must be original and unpublished. We also recommend that all direct quotes be properly referenced to the underlying authority and inserted in double quotation marks.
Blog posts are not crypto press releases, so they should not be sent in for publishing. Bitmedia is an advertising and publishing marketplace and all forwarded content should be geared towards this.
Other Industry Market Reports
We do not publish content from other industries. Bitmedia is solely focused on blockchain and the crypto space.
We are a pure-play crypto publishing company. Hence, we focus on distributing content that pushes the crypto industry further.
Order PR Distribution