Effective Methods for Driving Crypto Traffic to Your Website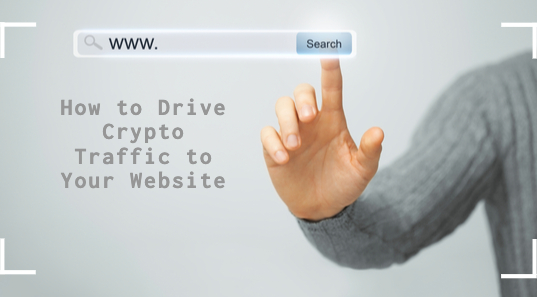 Having traffic flood to your site is a sure-fire way to know if your crypto project is successful. But, for those of you just starting out or looking to bump up those traffic numbers, you might be wondering how you can go about doing this.
So, today we're going to take a look at the most effective methods of driving crypto traffic to your website so that you can supercharge your leads, sales and signups!
Use Audience Insights
If you can understand your current audience, then you can speak more effectively to their interests, resulting in a higher converting site as well as increased rankings, which results in more traffic. There are a few techniques that you can use, but the most effective are:
· Market research
· Survey current customers
· Run context-specific surveys
· Chat with support
· Talk to sales
If you do all of these tasks, you'll have a fantastic platform to start with and a ton of useful data. You can then use this to refine your content, website and marketing efforts to supercharge your traffic!
Generate More Crypto Specific Traffic!
That's all good and well, but how can you refine this further and generate more crypto specific traffic? The answer? Fine tune various areas of your marketing plans. We're going to run you through 8 different areas that you can work on and use to gather intel to help you reach your goals!
​
#1 – On-Page SEO
Technical issues can be a major factor in your website's performance. If you get yourself a good SEO, they'll be able to clean up the technical aspects that are holding you back. You'd be amazed what a slight adjustment to URL structure and some ALT tags can make to your ranking.
#2 – Keyword Research
Keyword research is critical if you're going to ever rank for any terms, you can't just write and hope. Spend some time using tools such as Ahrefs or SEMRush to develop a keyword plan tailored to your specific brand and products. It's also worth doing this frequently as search trends can change over time, meaning keywords that were hot 6 months ago could have lower search volume, which impacts your performance.
#3 – Get Listed
Ever seen those websites that are full of lists and guides to epic products and companies? Well, if you can't beat them, join them!
Team up with review sites and catalogues so that your project gets covered in the hottest places. This will then give you more web presence and access to an already trusted review site's traffic. You can then convert from these based on the information and deals you are happy to cut them.
#4 – Use Landing Pages
If you're running ads and you're not using landing pages, then you're losing out on a ton of traffic. Create unique landing pages that are tailored to each campaign that you run. This gives your visitors a deep insight into the product with a stylish and dedicated page. Whether it's a simple signup form or a unique offer for a product, these landing pages can make a massive difference.
#5 – Email Marketing
Email marketing is an incredible opportunity that you can cash in on to boost your traffic and sales. If users are signed up and abandon their cart, you can send them reminders, giving them a gentle nudge to finish that purchase. Alternatively, you can inform subscribers about new events, promotions, deals, products and more. This drives previous users back to your site to check out the latest gossip!
#6 – Display Advertising
By running display ads, you can get your brand right in front of potential users. By making full use of advanced tools such as geo-targeting, whitelisting publishers, automatic ad bid and more, you can really squeeze every last cent out of your marketing budget. Using Bitmedia you can ensure that your display advertising happens without a hitch and gets you the best results possible!
#7 – PR Distribution & Outreach
Press releases and outreach wield a crazy amount of power, especially in the crypto world. Cast your minds back a few months to when a scammer posted a press release on PR Newswire claiming that Walmart is going to accept Litecoin. Litecoin rallied thousands of percent in the hours following the news. That's the true power of PR distribution and outreach campaigns, so don't waste all of that potential!
#8 – Check Analytics
Finally, you can dive into your analytics to see what type of content that your users engage with the most. You can then create more content along these lines and deliver what your audiences love. Also check out search queries on your site and create content around these questions. If you know what your visitors like, you can serve them up tailored content to keep them coming back for more!
Go Forth and Prosper!
If you combine all of these improvements, your website will have so much crypto traffic that you'll need to upgrade your hosting plan. If you are planning on making SEO optimizations, such as on-page and keyword research, do give it some time for the results to come as it's not an instant fix. Also, prepare support and your servers ahead of time to be able to deal with the extra traffic you're receiving!
Drive Crypto Traffic!