Bitcoin Ad Campaign That Goes Beyond Expectations

There are millions of ways how a marketing campaign can be structured and even more ways how your online ad campaign can become ineffective, costly and turn into a waste of time. This is why it is critical what platform you advertise on and what tactics you employ, turning into one of the main pillars of any successful crypto ad campaign.
Games.bitcoin.com made the correct decision right at the beginning of their marketing strategy planning and got in touch with us so that Bitmedia bitcoin advertising platform could help them reach the right audience. Along the course of this campaign, we have managed to attract thousands of new active users that passed the minimum deposit requirements.

Moreover, we have reduced customer acquisition costs by 80%, increased campaign efficiency by over 200% and made each impression count, overachieving on literally all the goals set by the client.
Magical bitcoin ad campaign goal
The team behind the renowned bitcoin.com platform wasn't necessarily interested in simple impressions and clicks that often lead to no concrete client activity. Instead, their goal was to attract real audiences that would make large deposits and form an active part of the community. Simple registration just wasn't enough for the campaign to be considered a hit and apart from minimum deposits had to result in a 3 times traffic growth.
Moreover, the complexity was elevated by precise succession rules stating that users had to make deposits greater than certain values. Sounds difficult? Not to us, as this is exactly what our crypto advertising network is great at and what we achieve for our clients on a daily basis.
Number of small deposits per day

Number of large deposits per day

Speaking of our client for this specific case study, it is the online games department of bitcoin.com that we launched the campaign for, a key player in the online casino space and one that attracts quite a specific user base. Games.bitcoin.com is an online casino that exclusively uses BTC and BCH (bitcoin cash) as the main means of value exchange. Unlike many other online casinos, it is a provably fair platform, that offers anonymous and instant registration, and boasts a range of popular games that can be played online, whilst having a peace of mind when it comes to the question of safety.
…and ACTION!
Although the campaign setup on the Bitmedia's bitcoin advertising platform is very straightforward, we always allocate one of our team members to walk the clients through the whole process of account setup and to advise on the best way to publish each and every ad campaign so it beats the expectations.
We started with a test run, using the CPM campaign model and a gambling package with a trial daily limit. Having a set of animated banners in the most conversing sizes, our account manager set up 2 advertising campaigns with 11 ads in total for each cryptocurrency separately, targeting the most effective regions for the gambling industry. It is important to note that our account managers have access to the most expansive knowledge base and statistics of performing regions, which in turn adds to the effectiveness of each and every bitcoin ad campaign. We practically eliminate any guesswork and know exactly what to aim for!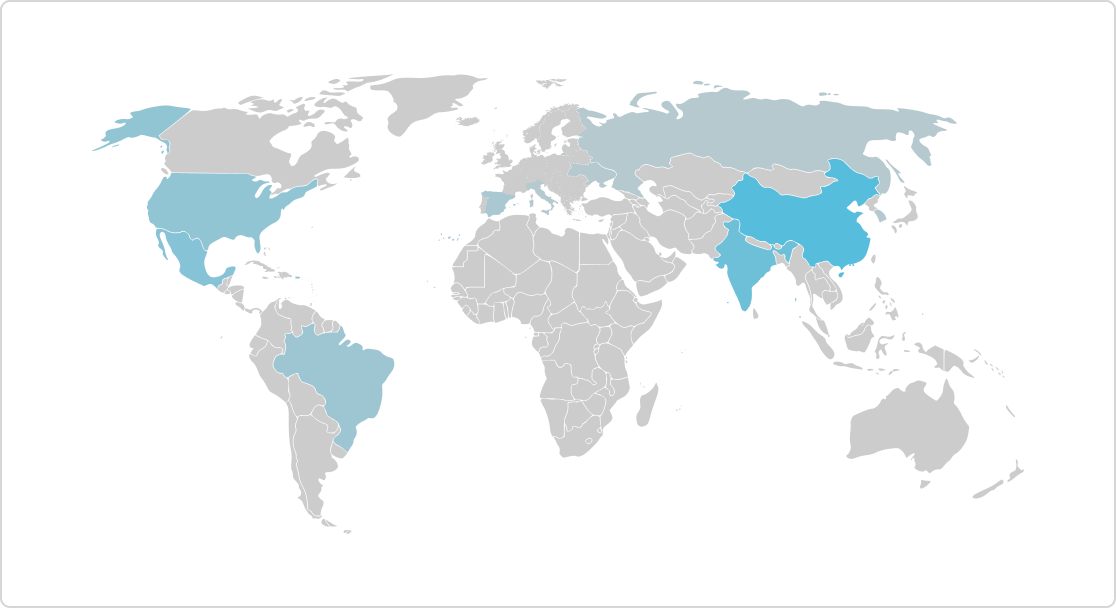 Having traffic checks done on a daily basis, our first optimization step was to exclude non-performing traffic based on Google Analytics data. The second step was to switch off low-performance sources with low conversion rates. This was achieved by adding these sources to the blacklist, whilst later, we even had to exclude some countries that provided good conversions, but small deposits. Finally, when the non-performing sources were excluded, we started to search for the most productive ones, whitelisting and scaling.
In rough numbers, we targeted both mobile and desktop users and launched the campaign with frequency capping of 15 impressions for each ad per unique user, with a 3-day ad rerun setup. This was done to increase brand recognition and to single out most lead reach sources. We then decreased the frequency cap to 10 impressions in order to halve the cost per lead and resumed the campaign broadcast only in those countries that not only had good conversions, but also attracted large deposits, that correlated with the outlined rules of deposit values.
Once we were left with only the most productive regions and publications, all leads turned into a high depositing and active user base. More so, given that the campaign broadcast was substantially cut down, the CTR, that usually serves as the effectiveness gauge, continued a constant uptrend movement, whilst the campaign in general amassed a x3000+ increase in attracted visitors compared to its first two days of operation.
Clicks
CTR

This sustained improvement utilized three main tools:
Blacklist
Whitelist
Selective bids
Bitcoin ad campaign conclusion
Games.bitcoin.com marketing campaign serves as a solid example of how to go beyond your goals with effective ad placement. Not only did we consistently increase the campaign efficiency, resulting in over 200% improvement in performance per each dollar spent, but also delivered more deposit making customers to the platform than the client originally intended for. We evaluated the response of the market and targeted most prospective regions, publishers, age groups and devices. Our statistical data helped to analyse the general response of the global audience and then allowed us to triple the marketing budget, knowing exactly what to aim for. We reorganised the campaigns and assigned each region with a separate bid, making sure that the ads passed the CPM floor that our publishers set.
Resultantly, the bitcoin ad campaign that included multiple ad groups and a large variety of creatives, funnelled itself down to unmatched CTR uptrend performance and expansive inflow of traffic. More so, whilst we started off with over 10 countries in total, the final push was much less broad, making user acquisition 80% more effective, read productive. This, of course, drastically decreased the cost of each deposit, but at the same time fueled the growth of platform registrations by a multiple of 4, although the initial goal was set to a multiple of 3.
Last but not least, you too can take note and utilize the tactics that this case study discusses and turn them into a successful crypto ad campaign on Bitmedia platform. Keep in mind that it is not only the tools that become available to you, but also a vast network of high-quality publishers and the knowledge that our account managers will aid your marketing planning with, to make sure that in the end, you get the best out of every cent you spend with us.