B2B Lead Generation – Best Tips and Strategies for 2021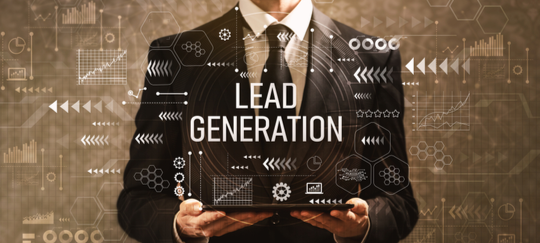 Business-to-business (B2B) lead generation can be a tricky beast to master. Large corporations make B2B lead gen look simple, but the truth is that they can boost their numbers by Tweeting about the office dog. You can't compare your small-medium business to these massive giants. But you can use lots of tips and strategies to take your B2B lead gen to the next level.
Let's run you through our best tips and strategies so that you can take your lead strategy to the next level and score more new business than ever before. We promise that these are super simple and are easy to achieve without breaking the bank!
Run cold email outreach
Running a cold email outreach campaign is a great way to boost your B2B lead gen efforts, and with a few small tactics, you can really squeeze all the juice possible out of your campaign. Begin by making a B2B buyer persona based on the data you already have from your website. Then, refine your email campaign based on the data you already have of your current buyers and users.
This will allow you to get the best results possible, appealing to the traits you already know your clients have. Make sure to keep the email short, sweet and to the point, beginning with a value proposition and some form of genuine interest. And remember, if you send 4-7 emails over a period of 1-2 weeks, you'll boost your average reply rate to around 27%!
Build your email list like a pro
Simply saying "join our mailing list" isn't going to cut it in 2021. If you really want to supercharge your B2B lead generation efforts, then you need to step up your email list generation game. Offer value and sweeten the deal. People don't want to simply read a newsletter anymore. Instead, they want to learn or receive something that's going to benefit them.
For example, "We grew our traffic by over 1,600% by using WordPress. Here's how we did it" is far more exciting than "join our mailing list". Think carefully about what you can offer your clients, sweeten the deal, and make it catchy as heck. Then your email list will start exploding and you'll be able to create more segments and value than ever before!
SEO and organic traffic are your friends
SEO and content marketing are often overlooked, especially when you want instant results. But what better way to get a steady flow of new potential leads down the road than by sowing the seeds now. If you never sow those seeds, you'll forever be chasing the sun and sinking money into other advertising ideas. Create meaningful content that's full of juicy advice, tidbits, and keywords to help you bump up your rankings. Also, look for ways to guest post on other sites to win some valuable backlinks and give your site's SEO a major boost.
It's also worth cleaning up the technical side of your site as well. With Google's latest update, technical factors play an even greater role than ever before in your ranking. So, iron out the technical issues so that Google has no option but to put you at the top of the SERPs for your industry!
Run quizzes and contests
Running quizzes and contests allows you to boost interactions from your potential clients. This gives you a fantastic insight into their behavior and current trends. It's also a good way to get your brand shared. If you run a great contest that has a nice prize or a meaning behind it, clients will share it around their contacts, which further increases your potential reach. You can drum up a contest quickly and they can work wonders for your B2B sales lead generation.
Offer a case study
Case studies are powerful marketing tools in the B2B world, especially if you can serve up real insight, data and information that isn't commonly available. Perhaps it's a quarterly case study on something specific to your business or your industry in general. By offering up a case study as part of your B2B lead generation, you'll draw in a high-caliber type of lead, and the case study will give them assurance that your business is the right fit for them.
So, not only is a case study a powerful lead generation tool, but it's also fantastic for building your reputation with potential leads. Solid case studies often make it into the media, which is extra awareness that your brand can utilize, from an SEO and a lead generation perspective. Finally, there is always the herding effect, where people get drawn to products and services used by others.
Run a PPC campaign
If you're running a crypto-related business, or are looking for blockchain-related traffic, then you can run crypto ad banners through a crypto advertising platform. Restrictions on traditional advertising platforms make securing high-quality crypto traffic difficult, so a dedicated crypto ad network is vital here if you're going to succeed.
Bitmedia has been in the crypto display ad space for over 7 years, meaning that you've got a battle-tested tool at your hands, filled with advanced features and targeting systems so that you can get the biggest bang for your buck and secure more high-quality B2B crypto leads than ever before!
Look at affiliate marketing
Affiliates are a fantastic way to boost your B2B lead generation. They know their way around their niche like the back of their hands, so why not tap into this font of leads. A lot of affiliates work with a CPA method, meaning that you don't have to pay them a cent until a new client signs up or purchases from your business. This is a great way to get free exposure and pay a fraction of the cost of traditional marketing efforts.
Supercharge your B2B lead generation today!
There are lots of lead generation strategies out there that you can use, but these will supercharge your B2B sales leads in no time at all. With a good strategy, you can pick up a pile of leads in no time at all. Using the right lead generation tactics can often be the difference between a record quarter and heading back to the drawing board, so spend a bit more time reading about lead generation best practices so that you can smash it and blow your targets away.
Generate Crypto Leads