Bitmedia Partnered with Reputable Ad Trackers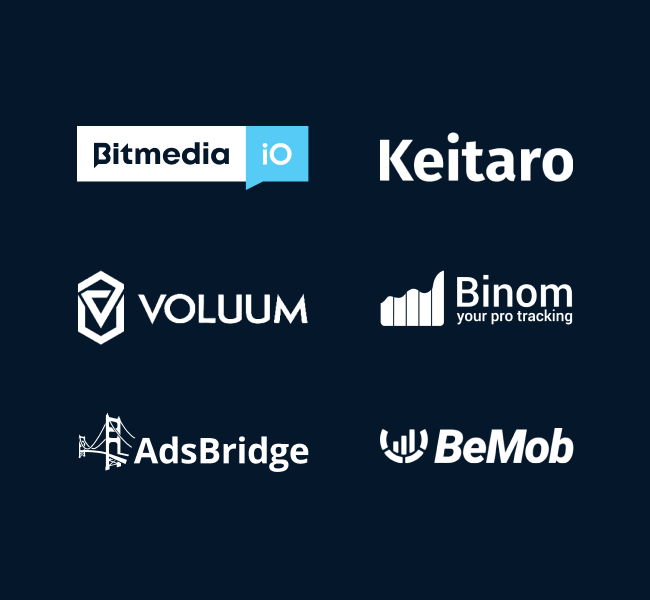 Bitmedia.io as a crypto digital advertising platform has partnered with major ad tracking systems to help customers use their service effectively and generate a positive ROI.
Ad tracking's purpose is to provide a measure of the combined influence of media volume or spending level, media buying or targeting performance, and the quality of advertising campaigns or uniqueness.
Advertisers utilize ad tracking information to assess the return on investment (ROI) of advertising and to fine-tune advertising campaigns. Tracking data is sometimes used to provide inputs to Marketing Mix Models, which marketing science statisticians use to estimate the influence of advertising concerning pricing, distribution, and other marketplace variables on brand sales.
Perhaps you missed some of our platform's significant partnerships with reputable trackers
BeMob
BeMob – is a performance tracking software for media buyers and affiliate marketers that is cloud-based.
This service allows for campaign management and optimization, as well as seamless redirects, advanced traffic distribution, and targeting system, a comprehensive reporting system, bot, and spy protection, and many other features that are essential for both beginners and professionals;

Make sure you have your Bitmedia account active before creating a campaign on the side of BeMob.
As Bitmedia.io is already listed in BeMob templates all the required fields will be completed automatically when this traffic source is selected.
To add Bitmedia.io from templates:
Press Traffic Sources
Click on New from Template
Type Bitmedia.io into the search bar
Select Bitmedia.io
Click on Next and enjoy using BeMob tracking with Bitmedia
Binom
Binom – is a self-hosted tracking platform as well as an arbitrage tracking system. It focuses on the mobile market. This service offers customers multi-level reports that include line marks, search, filters, and a Drilldown feature;

Since Bitmedia.io has already been included in Binom templates, whenever this traffic provider is selected, all of the required fields will be filled in seamlessly:
1. Go to Affiliate Networks and click Create
2. Click Load from catalog, and search for Bitmedia.io if you want to load the affiliate network from a template.
3. Click Save, now you can track all of yours Bitmedia campaigns with Binom
Keitaro
Keitaro – tracking that allows you to optimize advertising campaigns, monitor acquisition channels, regulate CPA funnels, and target your audience all in one solution;

Bitmedia.io has a new integration with Keitaro. Now, you can set up work with Bitmedia in just a couple of clicks. To do this, open the Sources tab – Create – Select a template – Bitmedia.io

Save the selected source template and proceed to the next step: connecting the template to the campaign. Go to the campaign and select the Source – Bitmedia.io item in the settings.

After that, you can open the Options tab to ensure that all the necessary labels and macros are automatically added. Now, you can simply grab a campaign link to the left of the Log button and use it in an advertising campaign for the Bitmedia.io network.
Voluum
Voluum – is a cloud-hosted affiliate tracking tool that allows you to track the development and profitability of your web campaigns, as well as improve and automate your advertising.

Because Bitmedia.io is already included in Voluum templates, all of the needed fields will be filled in automatically once this traffic source is selected:
1. Use a global menu to look for a traffic source
2. Select New traffic source from the top menu.
3. Select a traffic source template from the list of trusted traffic sources
4. Click the Load Template button.
5. Now you can view the predetermined traffic source in a global menu.
Furthermore, our users may now utilize those trackers to monitor the effectiveness of advertising campaigns, as well as use the templates, which are all pre-made configurations created specifically for Bitmedia clients, to start campaigns right away and take it as it comes.
If you have any additional concerns or questions, please contact us via [email protected] for further assistance.
Track Ad Campaign!