Spicy Bruno 🌶 | I never ask for money – Interview with the main crypto guy in Lisbon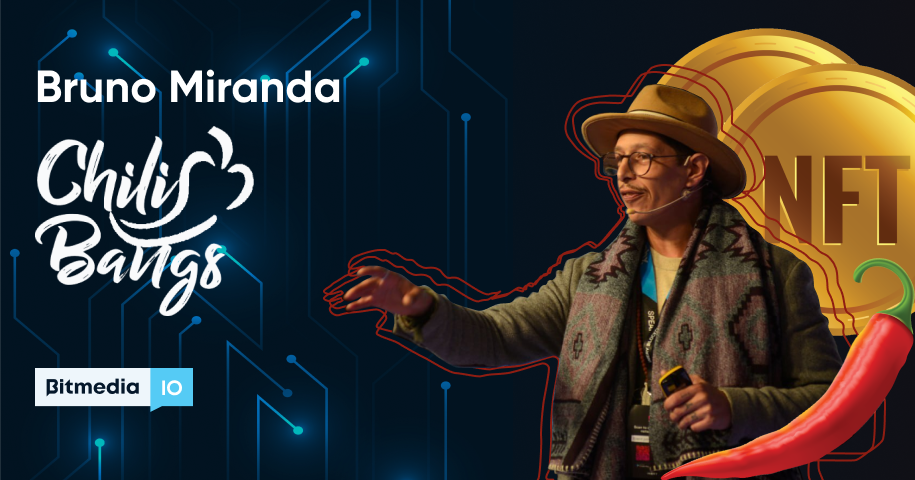 One of the primary functions of crypto communities is to facilitate the exchange of information and ideas about cryptocurrencies. Members often share news articles, market analyses, and investment strategies related to cryptocurrencies. They may also discuss technical topics related to blockchain technology and share their knowledge and experience.
Offline crypto events, such as meetups, hackathons, and conferences, are another important aspect of crypto communities. They create an opportunity for the members of the crypto community to gather together, share their knowledge and experience, learn from the experts, and stay updated on the latest industry trends.
Bitmedia team met Bruno in Lisbon during the Web Summit and WOW Summit, where he was a speaker. Thanks to him, we got to know many members of the Lisbon crypto community and attended many events during the week.
So we interviewed the most charismatic and famous crypto party guy in Portugal – Bruno Miranda.
Bruno, now you are a well-known personality in Lisbon and throughout Portugal. No crypto event is likely to take place without your participation. But what did you do before you became interested in crypto?
I went through different ecosystems and work before I got interested in the culture of the three fields:
(Crypto | Blockchain | Web3 ).
I lived in Switzerland for 24 years and then I moved to Portugal where I have been living for 16 years.
Since I was young I always liked working in communities and especially organizing communities.
So in 2013 I came to Lisbon and i started to work in a Call-Center and I quickly learned and understood the importance of the network and the richness of having a network of connected people.
"Then you join the useful to the pleasant with a well filtered database to obtain incredible results."
E.g. the ability to solve problems quickly, scale in a more secure way and the survival of the project.
During this 4 year period I evolved through different sectors and products of the call-center sector.
But in 2016 I had the opportunity to leave everything and go to a social project that was very close to my heart "ArtCasa" and beyond I could bring my vision and develop several community and artistic projects until I was even one of the managers.
In 2018 I created the Label ChiliBangs with the objective to promote local (Lisbon) electronic music artists and to bring the community together in exclusive events, with a different experience both in visuals and in format and especially in the way they unfold. I developed a unique loyalty format, where it was possible to get a tattoo of the ChiliBangs logo or to buy the ChiliBangs chili pepper necklace during the events, which gives you direct and free access to all ChiliBangs events once purchased, and this for life.
We estimate that we have more or less 2000 people who have either done the tattoo or taken the necklace.
I would also like to say that during the same year my son was born (Isaiah Salvador), and it was knowing that I was going to be a father that I also decided early on to create the ChiliBangs, so that one day he could remember his father.
Lockdown, 2020, forces me to stop doing events, so I'm looking for a way to retrain myself, and this during the separation with my son's mother, a less rosy period for me.
The desire not to lose hope, made me discover the world of NFT, Blockchain and DeFi.
After a few months of research on the internet and following the first twitter space, I was lucky enough to be put in touch with the Blockchain organisation Solana, in order to help in the realisation of one of the events for the Breakpoint Solana Meeting in Lisbon. In early November 2021.
The goal was to make a party for investors, the most important people of the Solana ecosystem and their friends passing through the capital of Portugal for the occasion.
After that you know it, I got on board in the world of web3 and blockchain and started to plant my little seeds of chilli.
The story of cryptocurrencies began in 2009 when a person or a group of people under the pseudonym of Nakamoto created Bitcoin. The interest in digital currencies has grown significantly since then, leading to their diverse applications in various sectors and industries. When did you first hear about crypto? What made you interested in it?
The first time I think like many during the time of the launch of bitcoin, and because I was also a user of the "Dark Web". ( I hope I won't be penalized for this little info on my pass hahaha)
The most important thing to remember about blockchain is the principle of interdependence between its users that allows cryptocurrencies to evade intermediaries such as banks and other financial institutions and experience an unprecedented level of decentralization.
But the influence of this decentralized philosophy is not only felt on the functioning of the blockchain. It also plays a crucial role upstream in the creation and development of projects. There is even talk of co-creation and co-governance since the community members guide the development process. They also take part in steering it, via what are known as DAOs (Decentralized Autonomous Organizations), which give a voice to each token holder.
And what exactly interested you? Crypto trading? Promotion? Or, maybe, creating crypto-related projects (ICO)?
The possibility to be free at the beginning, to buy with digital money things that you couldn't buy in any other way, to dream of a world without taxes and without being governed by governmental laws, that meant a freer, better future with more possibilities for everyone.
Tell us how you think the crypto community is affecting the development of the crypto market.
For me, it is clear that in any ecosystem, financial market whatever they are crypto or current system, excuse the expression but :
"Nothing spreads or is adopted if there is not a mass of people"
To me, this means that we need a strong and sincere community that can test, see and give their best feedback.
This helps us to improve over time and to improve our ideas and concepts.
I take the example of projects that thanks to their communities and especially without forgetting their leaders, who also take an important role in the various decisions, or change of maneuver for the good success of the results of the project and especially the confidence deposited by the community in its support in the investment made and projects that flourish in the community soil they are not lacking.
We can for example, quote :
Dogecoin. This crypto-currency, which started with a simple meme, has seen its price rise by more than 600% thanks to its ultra-active community and its values of altruism and benevolence.
Or Bitfinex, one of the most popular online exchanges nowadays, that relied on its early adopters at the beginning.
5 reasons why community is vital to the success of a blockchain project :
1. It supports technology development
Going back a bit in time, and remember just a few months ago, built-in features or applications were the main attraction of any new blockchain project.
A good example is Ethereum and its smart contracts, a real little revolution!
But there is a but that I don't want you to put aside, that we are currently in the ultra-saturated market.
So technological innovation is no longer enough to attract enough users to ensure the sustainability of a project and the problems that blockchain is currently facing are more about network effects such as scalability and congestion.
So to work (and attract investors), a new project needs to be backed by a strong and committed community.
2. It provides liquidity
Let me remind you why I was immediately interested in the world of DeFi as well.
Decentralized finance (DeFi) has made significant progress in recent years to reduce the risk associated with investing and trading crypto-currencies.
Even though most users often need a certain level of liquidity to safeguard their claims in case they leave the market.
It is also important to know that in order to survive, especially in the early stages of its development, a DeFi project needs a loyal community (e.g. ChiliBangs, Artsies, DAOist, CryptoMonday, OffChain, Web3Go, Based in Lisbon, Talent Protocol, DeNites, The Block, MintBase, ArtDao, just to name a few from the Portuguese and in this case Lisbon ecosystem).
And when I say faithful: "That is, users who take a leap of faith
and having confidence in its ability to achieve its objectives. And not rational investors only concerned about their profits and ready to sell everything at any time, at the risk of creating a catastrophic crash. 🤯
3. It moderates and mitigates conflict
Often, I have noticed that the personal interests of some token (or crypto token) holders diverge from those of the rest of the community. This can lead to disagreements on the final goal of the project. This type of internal struggle can cause a fork in the road, and therefore a huge risk for the project. It is therefore important for the founders to be able to count on a loyal and sufficiently large community to survive.
This is what I try to cultivate and motivate by creating Web3 Wednesday Lx.
A meeting point that is not only offline, but also online, in order to develop commitment on both sides. By making regular events to create a habit. With updated content, a diversified offer and always listening to the needs of the community we can succeed in having incredible and very engaging results.
I site: Deloitte's Global Blockchain Survey 2020 found that 40% of respondents saw these counter-currents as a barrier to joining a project. For 41% of them, the inability to create clear governance rules would limit its chances of success.
Hence the importance of aligning the needs and aspirations of individual users with the rest of the group to make the network work. And above all, to provide incentives to stay and help the project to grow!
4. It contributes to the longevity of the project
Did you know that?
Yes, you did! The average lifespan of a company in blockchain is 1.2 years, and the failure rate is 92%!
Not very encouraging figures… 😨
While some see this as a good thing, especially to weed out inefficient business models, failure to create a community can also push truly useful and innovative projects into the ditch. And that's a damn shame. But no project can achieve stable growth without an enthusiastic user base. By cultivating interest and thus attractiveness, blockchain communities ensure the sustainability of their currency. So be "Skilled"!
5. It opens up new opportunities
As the blockchain universe grows, its needs increase and diversify. New opportunities are constantly being created, both in terms of tools and services. Here again, blockchain communities have a crucial role to play: as an incubator of ideas. They help to unearth new avenues for projects, as was the case with the NFT and the Metaverse.
They also help to steer existing projects in more promising or meaningful directions. Here again, we are thinking of Dogecoin, which has flourished by financing humanitarian projects, particularly in Kenya. But to thrive, any blockchain community must not jump through hoops! First, it is important to ensure that a sound foundation is created for the community. And secondly, it is essential to create a facilitation strategy that works for your members! We explain how below.
What do you do for living? Tell us more about your activities, businesses.
I live from my events that I organize, sponsor and especially thanks to the different contracts that I make by being the ambassador of several web3 projects.
Ex: Metacard gift | Hudo Social Club | BB300 |
Who are the crypto influencers?
I don't really know because I'm too focused on my work and improving every day, so I'll say in an ironic form in the future maybe "me, from me-to you".
Who do you follow on Twitter among known and unknown influencers?
I'm not a fan of influencers but if I have to pick one I would say Gary Vaynerchuk for his sense of community and dedication to his community. Today he gathered thousands of followers in a single conference in the US.
What upcoming crypto events are you organizing and where?
1. Web3 Wednesday (Lisbon, Seville and Barcelona, Malta, Berlin, Tulum, every Wednesday)
2. Blockchain Battle Alitce Arena (Lisbon between July and September 2023)
3. Blockchain Week Praga (June 2023) (Community Partner)
4. NFC Lisbon (June 2023) (Community Partner)
Then we adapt to the calendar of events that pass through Lisbon ( ETHLisbon | Nearcom | Solana Breakpoint Meeting | Algorand | Filcoin | Websummit, etc)
What's in your personal crypto wallet?
Secrets 😊 But also NFTs | assets
Bruno Miranda Spicy ChiliBangs (Portugal , Lisbon) 😊
Thank you, Bruno, for your sincere and interesting answers to our questions. Join the groups in Telegram (Chilicommunity and Web3 Wednesday), follow Bruno on Twitter and Instagram to stay up to date with the most interesting events.
Official website: chilibangs.com
Final words
Well, as you can see, offline events can be especially valuable for building strong relationships within a community. They provide an opportunity for people to meet face-to-face and establish personal connections, which can lead to ongoing collaborations and partnerships. Moreover, offline events also foster a sense of community and shared purpose that can hardly be achieved through online communication only.
Overall, crypto communities and offline crypto events are essential components of the crypto market ecosystem. They provide a way for people to connect with each other, share information and ideas, and drive innovation and growth within the industry.
Don't forget to read the article about the role of influencers in crypto promotion. Bitmedia offers a wide range of marketing services that include banner advertising, crypto writing and content distribution, promotion on YouTube, Twitter, Telegram etc. Go to Bitmedia marketplace and connect with your manager to get more info!
Bitmedia marketplace!