Best Crypto Conferences in Europe and in the World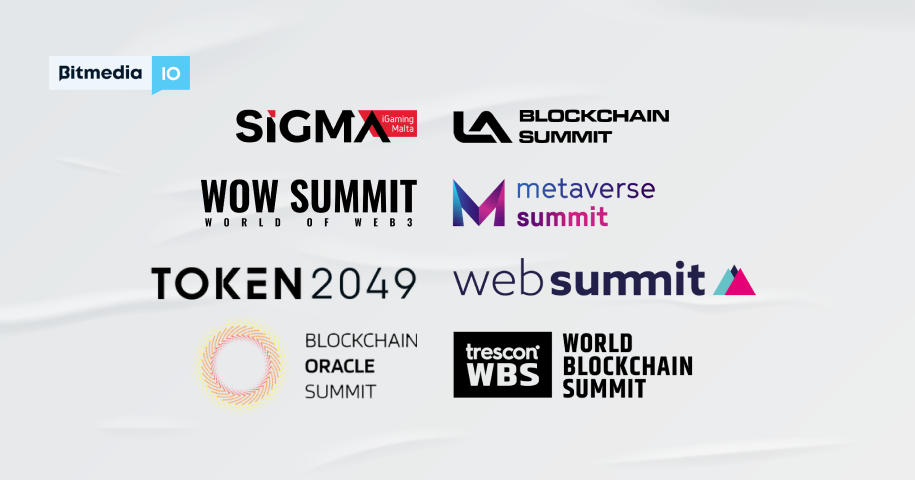 One of the best ways to learn more about cryptocurrency, blockchain, DeFi, the metaverse, and all other emerging concepts is to attend cryptocurrency events. Today, most organizers and companies are hosting more in-person events to allow interested enthusiasts to meet the powerhouses of the crypto and blockchain industries.
To help you find out which notable crypto events are worth your attention, we've compiled a list of some of the best crypto events in the blockchain, NFT, and metaverse. By the way, Bitmedia is a media partner and participant in most of these events
Top Blockchain and Cryptocurrency Events in Europe
Sigma Malta – SiGMA World is a leading platform for iGaming, betting and esports industries. With a well-earned reputation for networking events
WebSummit Lisbon – Web Summit brings together the people and companies redefining the global tech industry. Web Summit will return to Lisbon this year.
WowSummit Lisbon – WOW Summit Lisbon is a must-visit event for you to get deeper into blockchain implementation and build business the market needs
Blockchain Oracle Berlin – The Blockchain Oracle Summit is the world's first technologically agnostic summit that's fully-focused on oracles
Bitcoin Amsterdam – Bitcoin Amsterdam will be taking over Westergas to throw the biggest Bitcoin festival in Europe
Token2049 London – ​​TOKEN2049 is the premier crypto event, organised annually in London and Singapore, where founders and executives of the leading Web3 companies share their view on the market. We shine a light on the global developments, while taking a unique and widening perspective on the ecosystem and its vast opportunities
List of Crypto and Blockchain Conferences in the World
LA Blockchain Summit – LA Blockchain Summit is the marquee conference & expo focused on blockchain investing, building, and mainstream adoption in North America
World Blockchain Summit – World Blockchain Summit connects global blockchain gurus and technology players in this space including emerging startups – with regional businesses, government authorities, IT leaders, tech entrepreneurs, investors and blockchain developers
Trescon – With an ever-growing team of 250+ professionals in registered and partner offices across the world, Trescon produces highly focused B2B events that connect businesses with opportunities through conferences, road shows, expos, demand generation and consulting services
Bitcoin 2022 – Bitcoin Conference is a cryptocurrency conference and music festival in Miami, Florida
Metaverse Summit – Metaverse Summit gathers builders, entrepreneurs, investors and experts of avant-garde technology and business model, from diverse sectors including Gaming, 3D, crypto and blockchain, Metaverses etc
Supermoon Camp – Supermoon Camp is an exclusive community of blockchain innovators and enthusiasts who are driving mass adoption of cryptocurrencies to new heights
Mainnet VC Gala – An exclusive networking gala in Web3 Gallery near Bryant park with 300 VCs, angel investors, executives, and top-notch founders
NFT.NYC – Since its inaugural conference in February 2019, NFT.NYC events have hosted 20,000+ attendees, hundreds of leading speakers and the best projects in the Non-Fungible Token ecosystem
Token2049 Singapore – TOKEN2049 is the premier crypto event, organized annually in Singapore and London, where founders and executives of the leading Web3 companies share their view on the market. We shine a light on global developments while taking a unique and widening perspective on the ecosystem and its vast opportunities
Join Bitmedia