Why display ads is a hidden gem for crypto projects marketing? QuickShock agency experience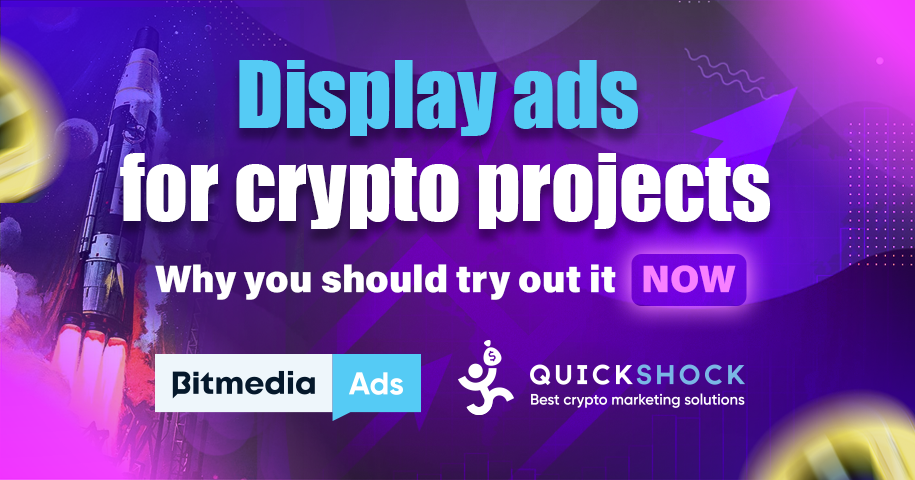 Crypto-projects founders and marketing teams are constantly looking for the newest channels to engage the audience. Whether it's a bearish or bullish market, all companies are working to develop community, increase brand awareness and expand the user base via any available means. Based on the promotion experience of more than 300 DeFi, CeFi, Play-2-Earn and NFT projects, QuickShock came up with the conclusion that display ads is an extremely underrated tool, which can bring quick and impressive results with proper planning, analytics and optimization. In this article, we'll explain why it's worth trying display advertising for your project:
1. Display ads efficiency
Every year Web2 brands spend more and more money on display advertising. In 2021, display ads spending reached about $118 billion (40% of total media ad spending). Statista and eMarketer predict that display ads spending will increase to about $205 billion in 2025. Display ads growth is showing no signs of stopping, and in tandem with handy display ads platforms such as Bitmedia, proves the real effect of marketing campaigns.
2. Alternative to classical performance marketing channels
We all know that the most popular advertising channels from Web2 are very skeptical of crypto-projects. While only expensive license owners are eligible to run large-scale campaigns in Facebook Ads and Google Ads, the rest face constant blocking and unsatisfactory volumes. With dedicated display ads platforms like Bitmedia you don't have to bother with limitations, but focus on campaign launch, creating a simple and convenient alternative to familiar marketing channels.
3. Promptness of launch and results evaluation
When working with influencers, crypto-projects face a slow process of content approval, the human factor, and the complexity of analyzing released publications. Performance marketing through display ads allows you to launch ads creatives for the targeted audience in a couple of hours and receive exact results of the campaign with the help of Google Analytics, Amplitude etc. Plus, these campaigns can be instantly edited and adapted to new landing pages and offers, giving marketing teams decision-making flexibility.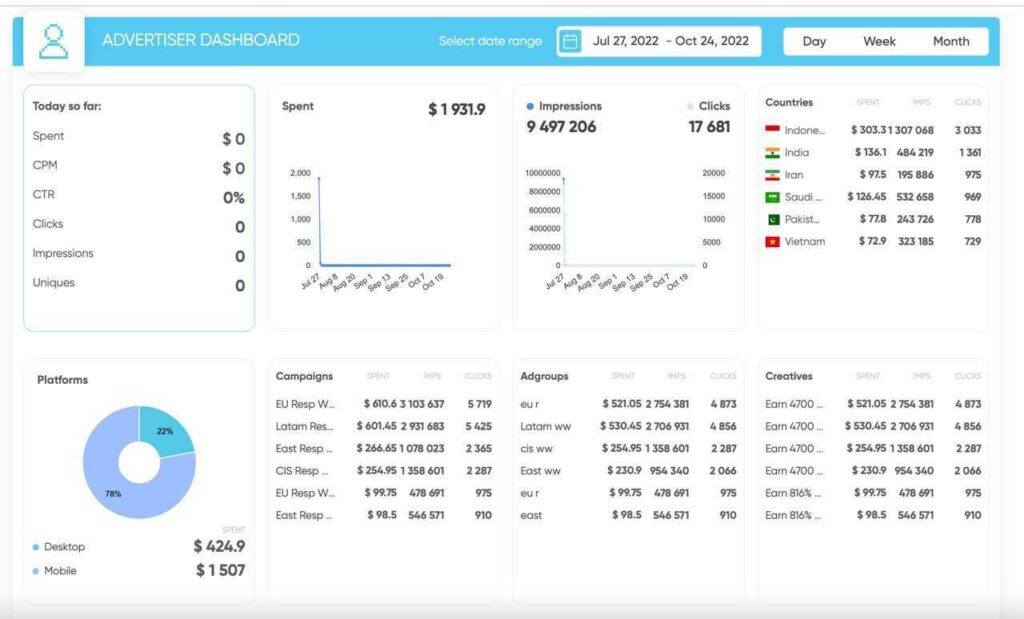 4. Reaching a wider audience with precise targeting
Frequently, by launching PR or influencer campaigns projects can't be certain of which countries' users will watch the content. Display ads allow the launching of campaigns with top country-level targeting. This advantage makes it possible to not only obtain international coverage but also to run local campaigns focused on a particular region.
Campaign Results for TokenSale
Duration: 4,5 months
| | |
| --- | --- |
| Spent | 22,708.59 |
| Registrations | 7,751.00 |
| Verified users | 4,754.00 |
| Product purchase | 182.00 |
| AV Cost to registration | 2.93 |
| AV Cost to verification | 4.78 |
| AV product purchase | 124.77 |
| AV spending per day | 166.97 |
| AV number of registrations per day | 34.96 |
| AV number of Token per day | 1.34 |
| AV CPC | 0.16 |
| Total number of impressions | 59,199,948.00 |
| Geo | All GEOs, including tier-3, but excluding US |
5. Low competition
While the majority of teams are in the race for high royalties of key opinion leaders and journalists, they don't notice such a channel as display ads, as it is not widely discussed in the media and Web3 marketers communities. Why not at least try out the "blue ocean", which is not already "flooded" with your competitors' ads?
Despite all the apparent advantages, display ads are not a magic pill for crypto projects marketing. To launch successful campaigns you need to form a precise offer, configure the analytics, create captivating creatives, and make the proper segmentation. And, during the campaign process, you have to optimize traffic, evaluate the performance of advertising platforms, collect white/black lists of websites, and interact with analytics systems.
QuickShock team is ready to launch turnkey display ads for your project. We develop an individual marketing plan for every client based on 5+ years of experience in the cryptocurrency and blockchain industry.
Promote NFT and GameFi