Increasing Visibility & Brand Awareness for Obmify Crypto Exchange [Case Study]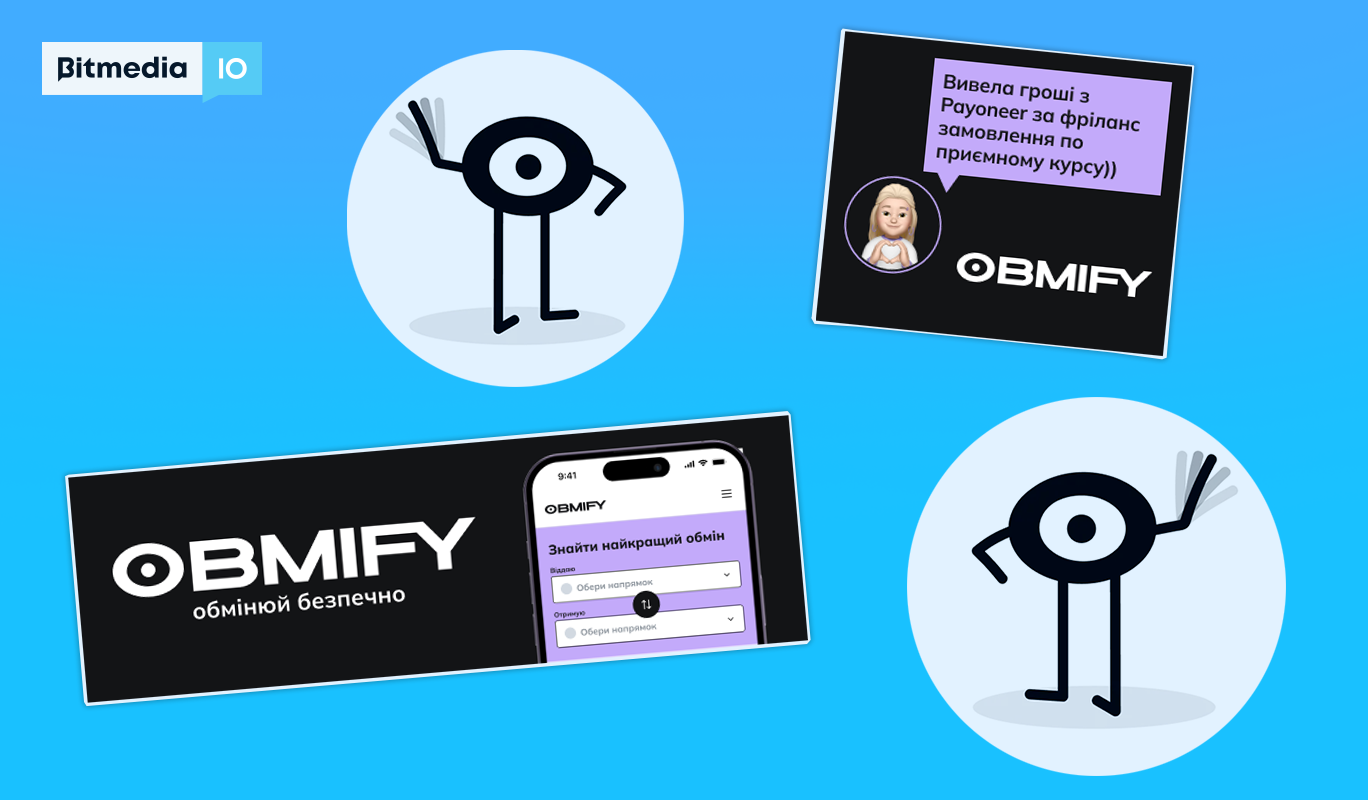 Introduction
At Bitmedia we love working with new clients and seeing their business grow as a result of our tailored campaigns. We work hard to make sure that our campaigns match our client needs perfectly, growing their audience and allowing them to reach their goals.
One such client we worked with recently was Ukrainian cryptocurrency company Obmify, and we would like to share with you how we helped them transform their audience reach and tell the world about their amazing services.
About Obmify
Obmify was built to make it easy for Ukrainians to exchange cryptocurrencies online, offering a seamless and secure process in just a few clicks. The platform provides a curated list of trusted online exchangers, ranked by the best rates, with users able to choose which provider they would like to use. The key features of Ombify include the ability to convert crypto to a Ukrainian bank card, transfer funds from Ukrainian to European Visa/Mastercard cards, buy crypto with a European bank card, and conduct various cashless crypto exchanges online.
Obmify's user-friendly interface and real-time exchange rates offer users an instant view of what's out there for them, while exchanger reviews increase transparency and reduce the risk when choosing an exchanger. Every exchanger showcased on Obmify undergoes rigorous vetting, ensuring reliability and safety, allowing users to trade with peace of mind.
Obmify is a Ukrainian product through and through, stemming from a Ukrainian IT startup and powered by experienced professionals, which is something we used as a feature of the campaign. Talking of which, let's look next at our approach.
The Campaign
Obmify worked with Bitmedia to identify the goals of its campaign, with Obmify seeking above all an increase in brand awareness and web traffic, with the growth region being their home country of Ukraine. This was great news for us because this sort of thing is our speciality!
After consultation with their dedicated Bitmedia account manager, Obmify chose an SMS model marketing campaign, which was tailored to resonate with the Ukrainian market. Using this brief, Bitmedia came up with banners of varying sizes and accompanying texts aiming to encapsulate Obmify's service essence and value proposition. These were signed off by Obmify and the campaign started!
Through a data-driven approach, Obmify and Bitmedia closely monitored the performance metrics of different banner-text combinations. Employing tracking tools allowed Obmify and Bitmedia to identify the banners that generated the highest click-through rates. According to the client's statistics, these sizes performe the best:
300х250
320х100
468х60
160х600

Examples of banners for Obmify
This informed decision-making led to the prominent display of top-performing banners in subsequent campaign iterations, enhancing the overall campaign efficacy.
The campaign's localized and personalized SMS approach also encouraged a direct connection with the Ukrainian audience. By pushing out a concise yet compelling messaging, Obmify ensured engagement and relevance within its target market, fostering a sense of trust and familiarity with its brand. This approach highlighted the importance of tailored communication strategies in connecting with specific audiences, which is something that can only truly be harnessed through an experienced agency such as Bitmedia.
The Results
The month-long Obmify marketing campaign saw remarkable outcomes, boosting the company's online presence and user base just as they had hoped. Thanks to our campaign strategy, the Obmify site achieved a 15% increase in traffic from search networks with the collaboration yielding 3,800 new users, a substantial portion of whom exhibited strong returning user behaviour.
The campaign's impact on organic search traffic was equally impressive, as Obmify experienced a notable increase of 1,500-2,000 users during the month the campaign was running:
The data provided by the client illustrates the campaign's cost-effectiveness, with a total expenditure of $3,491 and 179 successful conversions. This puts the cost per new user at just $19.50, demonstrating an efficient acquisition strategy.
Examining the 30-day statistics, the campaign's broad reach is evident with 670,995 impressions and a reach of 65,504. Obmify also benefited from impressively low costs, with a CPM of $0.70, CPC of $0.36 and CPA of $12.69, showcasing the campaign's high value.
In conclusion, Obmify's campaign was a resounding success, resulting in increased traffic, a substantial influx of new users and efficient cost management. These accomplishments highlight how the campaign resonated with consumers, which in turn had a positive impact on the brand's visibility and growth.
Back for More!
Given the success of Obmify's month-long campaign, it's no surprise that they already signed up for more targeted advertising. We will give the last word on this first campaign to Obmify themselves:
"Our product was created primarily by Ukrainians for Ukrainians, so one of the key factors was the availability of Ukrainian traffic, the quality and quantity of which met our expectations. The user-friendly interface and the professionalism and friendliness of the account manager also played a role in our choice in favour of Bitmedia. Currently, Bitmedia is one of our main sources of traffic, which allows us to maintain stable traffic and conversion rates."
If you would like to experience the kind of instant growth that Obmify enjoyed, contact us today and let us take your audience exposure to the next level.