Amplifying Brand Awareness with a Crypto Ad Campaign for Bitcarra

Making headway in the crypto gambling space can be daunting and tricky, given the high competition. But for Bitcarra, the home of Dual Crash games, this was a challenge that must be tackled in order to grow into the most premier crypto crash site in the world.
Their weapon of choice? A targeted crypto display ad campaign with Bitmedia, focusing on a wide range of geos with custom-made artwork that evokes all the right feelings with crash players. Let's replay the campaign and take a look back to see what Bitcarra did and how well it performed!
The Project
Bitcarra is one of the most innovative crypto crash sites around, creating the world's first Dual Crash game. The team from Bitcarra is crypto obsessed, meaning that Bitcoin, blockchain and the superior technology runs through their veins. This same passion shines through in all of their breathtaking crash games, where players can turn their small bags of crypto into massive holdings, if they've got the nerve!
All game rounds are provably fair, meaning that users can self-validate the outcome to ensure they've not been swindled. Couple this desire to be open and transparent with a top-notch customer support team, and you have what could be considered the best crypto crash site in the world.
Bitcarra wanted to share its amazing platform with the world by running a crypto display ad campaign. The plan was to raise awareness and drive more users, while keeping the spend at a reasonable rate. To complement Bitcarra's crypto heritage, Bitmedia stood out as the perfect crypto display ad platform to team up with!
The Execution
As Bitcarra's goal was primarily to increase brand awareness, a CPM campaign was the optimal choice. Running a CPM campaign allowed Bitcarra to get its name in front of as many eyeballs as possible, while keeping the spend relatively low. Any conversions gained as a result was a total bonus. An initial campaign was set up targeting 50 countries from around the globe, displayed on gambling focused publishers.
Bitcarra created a few artworks to be used for the campaign across the various geos, which resulted in 1,617,184 views and a CTR of 0.15%. This was a great effort for the initial campaign, but with a little bit of tweaking based on the data gathered from this campaign, Bitmedia was certain that it could increase the performance even further.
The Refinement
Bitmedia isn't one to sit back and relax. Getting stuck in and helping clients achieve their goals is at the core of Bitmedia's mantra, so it's only natural that Bitmedia took the initial results and data to help refine and optimize Bitcarra's crypto display ad campaign.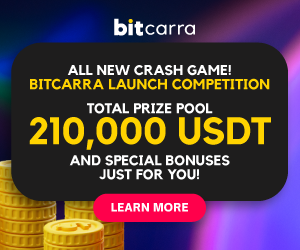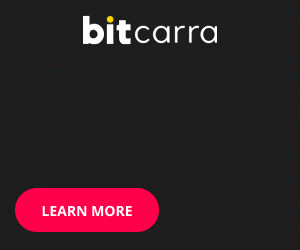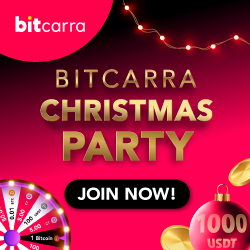 In the second round of advertising, the Bitmedia team blacklisted several publishers from the campaign and added a few that are not in the gambling niche through whitelisting. The targeted geos were also refined to rechannel the available budget towards the higher-performing jurisdictions. Bitcarra also added several other images to be used in the campaign, allowing them to be rotated every couple of months to prevent ad fatigue. Bitmedia also created a set of gifs based on the artwork, which went down incredibly well with the viewers and attracted new active gamers.
These tweaks and changes improved the impressions by 212.27% and increased the conversion rate from 0.15% to 25%, which is phenomenal for a CPM campaign or any other crypto display ad campaign that is not targeted at a specific and pre defined range of users.
The Results
Over the course of the campaign and refinement stages, Bitcarra's crypto display ad campaign went from strength to strength. The final stats came in with a total of 8,488,688 impressions, with Indonesia, Vietnam, Japan and Romania taking the top 4 spots.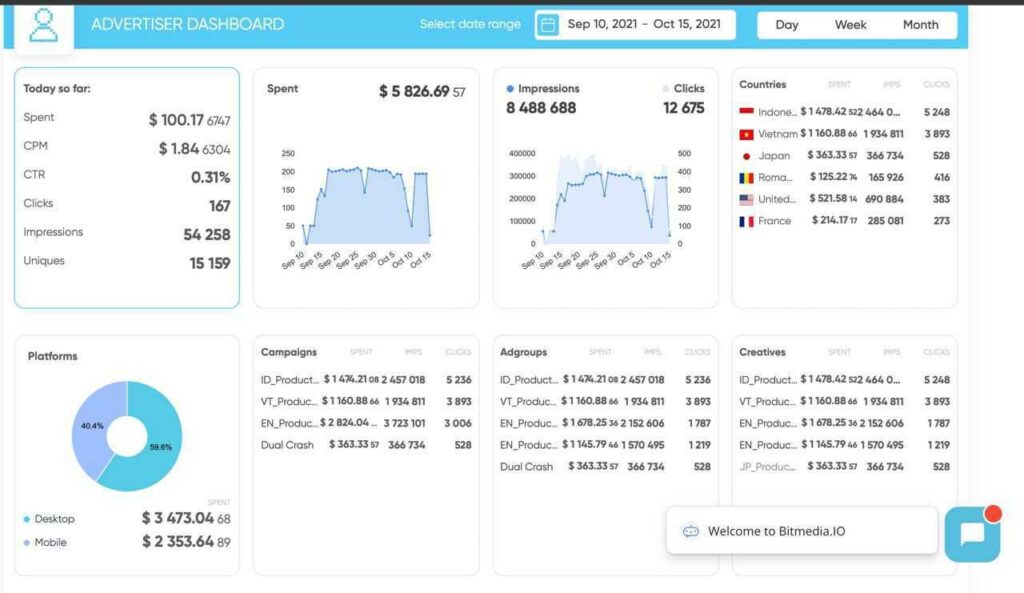 Those 8.4 million impressions resulted in 12,675 clicks, which for a CPM campaign is a solid effort.
Desktop was more popular than mobile, with a spend of $3,473 going towards this medium.
On the other hand, mobile spend reached $2,353 over the same period.
It's safe to say that Bitcarra's display ad campaign was a roaring success, especially when Bitmedia stepped in to help refine and optimize the campaign.
Launch Your Success Story Today!
Bitmedia is one of the most established crypto display ad networks in the world, bringing you a refined set of tools and features to help make your campaign a success. The Bitmedia platform supports a range of ad types, including but not limited to the following:
· Text
· Responsive ads
· Image banners
· PNG images
· Animated gifs
· HTML5
Team up with Bitmedia today and make your marketing budget work harder than ever before to deliver you tangible results that speak volumes. Success is just a click away!
Start Ad Campaign