The Basics of Crypto Fundraising and Marketing: Insights from Ruslan Lynnyk, co-founder and CEO at Majinx.io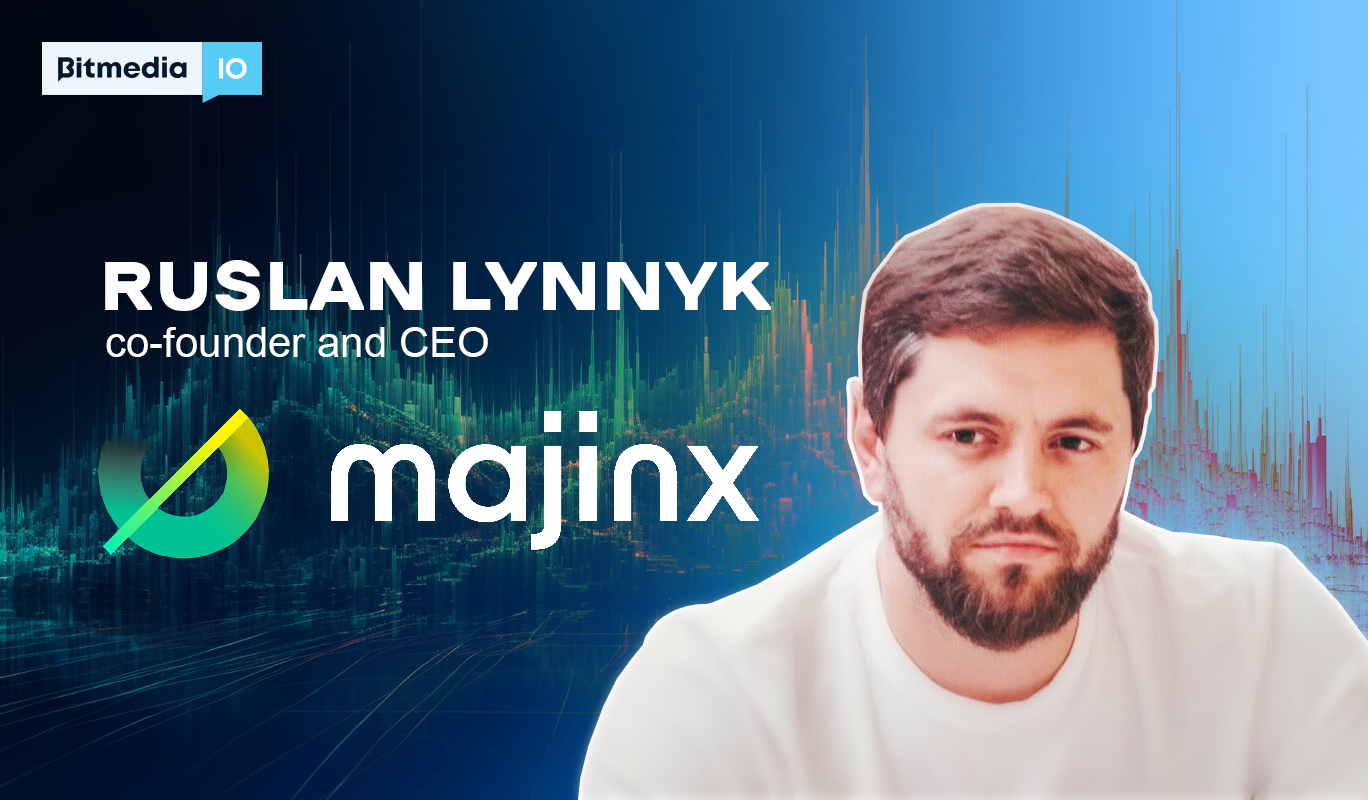 Two visionary forces come together to ignite a conversation that transcends boundaries. Today, we're thrilled to bring you an exclusive interview featuring Ruslan Lynnyk, the forward-thinking CEO of Majinx.io, in conversation with Bitmedia.io.
Ruslan Lynnyk leads Majinx.io with a passion for decentralized finance and an unwavering commitment to unlocking the true potential of crypto fundraising and blockchain technology in general. Ruslan and his team at Majinx.io are experts in securing essential funding for startups and blockchain ventures, offering comprehensive services to support and promote projects across diverse web3 categories, including ecosystem, infrastructure, DeFi, GameFi, AI, and NFT.
In this exclusive interview, we delve into Ruslan's insights, experiences, and the driving force behind Majinx.io. Join us as we delve into a dialogue that promises to shed light on the opportunities, challenges, and breakthroughs in blockchain industry.
How does the fundraising model for crypto projects differ from the traditional fundraising model?
Funding or raising investment in WEB3 is global, instant and 24/7 through the blockchain network.

One of its paramount benefits is accessibility; this new approach opens doors for participants worldwide, regardless of their accredited investor status.

Speed. This global reach, combined with the technology's inherent speed and convenience, enables near-instant transactions, eliminating traditional paperwork.

Another aspect is the profound community involvement; backers are not just passive investors but become integral members of the project's ecosystem. This sense of ownership and involvement boosts commitment and support for the initiative.

Various options provide open access to capital from a diverse range of participants for the public.
Initial Coin Offerings (ICOs) – allow you to sell tokens to the public, which resembles an IPO.
Or another form of placement is through placement on decentralized exchanges – DEX.
Decentralized Autonomous Organizations (DAOs), especially Investment DAOs, represent decentralized communities that aggregate funds for specific purposes.
What sparked your interest in this industry and led to your involvement?
When I first encountered this field, I was captivated by the technology. It opened up a completely new wide range of possibilities for humanity, which is just beginning to discover its value. The market is just beginning to emerge, and the technological projects we are working with today will bear fruit in years, tens of years. That's why I like new challenges and diving into the future.
What are the major challenges hindering the evolution of crypto fundraising?
As for the entire crypto market, it is distrust. Trust is not formed due to the lack of a legislative field in various countries of the world, or complete regulation, as in the USA. Accordingly, in some countries, the investor is in the shadows or has no rights at all in case of force majeure. In other countries, it is even prohibited. Fraudsters use such a shadowy and unprotected environment to create scam projects. The result of their activities is a completely disappointed investor without confidence in the entire industry. But thanks to reputable ones, including Magiks, we conduct a preliminary audit before making an offer to investors.
You not only look for investors but also provide marketing support for these projects. In fact, you offer a full range of services for project realization. Describe what marketing request you are asked most often.
It is very important to realize that most of the marketing requests correlate with the development stage of the projects. We have two key groups of clients – seed\pre-seeded clients, i.e. those who are at the initial level of development, as well as series A projects that already have pretty good social traction and have a direct need to scale successful marketing mechanics, as well as test new hypotheses for getting users and community.
On this basis – the most frequent are services on complex marketing aimed at obtaining a starting organic community with a high level of activity. Second in priority are requests for marketing preparation of the product for public sale or community sale, as well as side supportive marketing for fundraising and strengthening social traction.
Read also: Why Your Crypto Business Needs a Marketing Agency
I would like to note that we are engaged in strategic and growth marketing, which allows us to solve the problems of our clients in the most comprehensive way. It is also important to say that we make the best possible use of our client's marketing budget, which allows us to achieve results with minimal expenditures.
Please name your (Majinx) first project where you successfully managed to raise investment. Provide more details about it.
One of our first and most successful raises was for Liquidity protocol (the name of the project under NDA) where we raised 6 million in 2.5 months. This is one of the most amazing cupcakes, for this project we did not only a fundraising campaign but also a side marketing and startup packaging of the project. The product owners literally came to us with an "idea" that we successfully managed to package and promote through marketing, and then – sell to investors. At the moment, it is a current functioning project that has its own client base and is already profitable.
Explore the Most profitable and Succesful Crypto Marketing Strategies.
Do you encounter situations where some projects do not pass the selection process or finding investors is challenging? How do you address such situations?
I would break the answer to this question into two parts. If a project does not pass our internal screening, we do not leave it to chance, but on the contrary, we help with the preparation of all the technical documentation, packaging, finalizing the concept and economic model, etc. Here it is important to realize that it is better to spend extra time on packaging than to start a voyage and after a while be left with nothing and in the same state of affairs, having been exposed in front of funds that could have been invested in the project if it had been better prepared. Fundraising is not a field where you should rush into the maelstrom without a proper state of affairs.
This is not the case for projects that start to have problems or that fail to raise money immediately. It is important to realize that there are three key reasons for the failure of a raid – market situation, weak product and wrong fundraising strategy and focus. So with two of the three points, we can work with and support the project. Our raid strategies are very adaptive to the flow of things and we are able to quickly adapt the campaign or fundraising focus in the process. If we see that the project is weak – we give settings on those items that do not give a chance to realize the collection or we eliminate these items ourselves. We cannot influence the state of the market – but through extensive efforts, increased outreach, and detailed work with warm investors – we most often manage to close the round or fulfill it at least by 50%.
How would you describe the crypto fundraising culture in 2023 and beyond?
I'd say the overall culture is more like a big family.

It's important to know how, when and where to connect with who:) This means nourishing and keeping the connections with some old friends and partners but also being able to stand out to be attractive for new partners.

Since the industry is still very young, many investments are being made via personal intro therefore a strong base of your own direct contacts is a must-have for a fully successful raise.
Also important to mention is that the tech- level of products has tremendously increased – therefore always keeping up with new mechanisms and tech is a must, unfortunately, basic blockchain knowledge won't be enough.
What are the features of the fundraising specifically for web 3 projects during bearish market?
Funny enough is to be as agnostic towards the web3 market as possible. Many projects are now shifting their tech basis towards integration into real-world existing solutions with a web3 infrastructure part in it – hence they're not so dependent on token or industry as a whole.
Be flexible – be ready to sell equity.
Don't try to solve web3 solutions (web3 industry is still immature and empty on liquidity), solve web2 problems although with web3 tech. We don't need another exchange that will accommodate a cloud wallet with an NFT integration blah blah blah, I guess you get the point.
What about the risks? Concerns often arise regarding the trustworthiness of digital currencies and their associated costs. What are your views on this?
Fundraising and working with fundraising is always about working with probability. Therefore, risk management is what allows us to work with all formats of objections on the market. The basis of this management is built on the fact that in our interaction with the project and investors we base communication mainly on warm contacts, partner funds and so on, but this greatly narrows the circle of search and opportunities for projects. That's why we also run outreach, which is our safety net for campaigns.
This tool is used in two channels – mailing and LinkedIn, which allows us to reach a large enough number of potential investors without losing our target focus. The key to successful fundraising is to combine intensive (warm contacts, partners) and extensive (outreach) searches for investors because this helps to offset any risks associated with the number of rejections on various pretexts.
What are the key principles that fundraisers need to understand before getting started?
Be confident but not over. Any product can raise, it's just a matter of approach – therefore be curious and find out as much as possible. Put yourself in the shoes of the CEO or founder – Bring 10 reasons why you should and shouldn't raise. Emphasize why yes, fix the why not parts.
Build your network. Net work – Net Worth. Contacts, especially good ones are gold. Be a humble and proactive person. Don't be greedy, especially on knowledge, be open to sharing and help, and always do the extra step. People will appreciate it and help you to make that necessary intro – you never know who knows who.
Do your homework. Always be prepared for the toughest questions, and always be on and ready to answer on any topic. If you've done enough research on competition and within your team about your product, you should be able to easily operate with this info. Stress tests will always come, it's the way you approach them that makes a difference. VC's aren't easy guys, nor are hardcore ones – just be prepared.
Don't work with idiots. Save your time energy and reputation. If you can sense an idiot the rule about any project can raise won't apply here. Don't work with stubborn people or ones who really out there to cause a headache. Believe me, a better opportunity will come. Here you're not paying with lost money opportunity, you pay with your health, time and reputation – work with the best one fuck the rest!
In closing, I want to express our sincere gratitude to Ruslan Lynnyk, CEO of Majinx.io, for sharing your valuable insights and expertise today. It's been an enlightening discussion, and your vision for the future of crypto fundraising and web3 marketing is truly inspiring. We look forward to seeing the continued success of Majinx.io and the positive impact it will make in the crypto space. Thank you for being with us today, Ruslan.
Majinx.io provides full support in fundraising & marketing services for WEB 3.0
Experience:
– total raised for our partners >$43M for 21 projects
– in process 12 projects ($30M+)
Team: 45 person