How to Get Started and Succeed with Crypto Marketing in 2023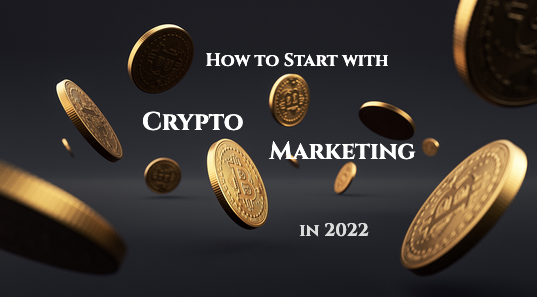 Launching and marketing crypto projects are two different matters altogether. The development and competition of promoting cryptocurrencies is fierce, and simply posting a few, free ads won't get you ahead of the game.
This is a guide to what is crypto marketing and the important factors to keep in mind when diving into the crypto-marketing world. Getting the basics right will go a long way to building a durable foundation for your crypto asset startup. Naturally, the aim of any promotion is to increase your brand awareness, create an interest in your overall mission and watch it grow into something that is adopted into the real-world. But before we get ahead of ourselves, let's begin with the basics.
Why should you market crypto?
The technical knowledge and the experience of your marketing team will be the backbone of any crypto project that is looking to stick around in the future. Your whitepaper, roadmap or even your crypto product, will never be able to sell itself, no matter how amazing it is.
Nowadays, the internet has taken the world (and every industry within it) by storm, and social media, digital campaigns and technological advancements have all fundamentally shaken up how traditional marketing works. This is why a successful startup must employ an omnichannel attitude to its marketing plan, including paid ads, content marketing, community growth and smm, all into it.
How to start Crypto Marketing
A 'start up' business is always a risky business, however, the malleability of the open-source blockchain makes it cheap to experiment with. Many are therefore weak in their attempts, which in turn, increases failure. So how do you make your blockchain startup stand out from the crowd? How do you give yourself the best chance at success?
Communication is key
It all starts with communication, and how you get your crypto project's purpose across to others. It seems obvious, then, that creating an online marketing campaign for your cryptocurrency needs to start off with a clear message.
You might be surprised to learn that 90% of start-ups fail, and although you might feel discouraged by the bleak stats, take time to understand why and direct your energy towards overcoming challenges that other crypto enthusiasts couldn't. Whether it's because they were late to the marketing party, can't execute their product vision, or simply didn't find a product-market fit, it all boils down to the moment your crypto idea was born, and the steps you choose to take afterwards.
Here are a few pointers that you should keep in mind when you want to begin promoting your crypto.
Be simple
This is often overlooked, frequently favouring industry jargon and technical terms. Although detail is important, remember that you're targeting various levels of crypto knowledge, so communicate your message distinctly, and strive to help people understand your ultimate aim. Educate your target audience, and endeavour to become legibly friendly towards your non-tech users. Speaking in a language that people can relate to will boost your marketing and in return, your crypto-fan base.
Be a solution
Although you're after a successful digital crypto campaign, it can only be built from intense and well-construed research. Talk to people, attend conferences or learning centres, find out how technology can help solve their problems and get your hands 'dirty'. Your crypto project research, conducted in the right places, is crucial for you to be able to steer your product into being a solution to a problem, not a solution in search of one. Even the greatest crypto marketing teams will fail if they don't find a product that fits the real needs of real people, no matter how incredible your crypto campaign is.
Once your solution is set in stone, it is time to take it global. This is done through paid ads advertising that carry an unmatched effectiveness when it comes to new traffic acquisition and reach the right crowd. After all, nothing beats broadcasting your ads to millions of precisely targeted audiences.
Be transparent and open
Be yourselves – explain who you are, what you do, and what makes you the right choice to tackle the problem you're aiming to alleviate for your audience. Meditate and explore your purpose, your concept, what you stand for and what your crypto mission statement is. Build your crypto campaign from the ground up, starting with the very core of your business model – the purpose of your project.
Use your platform and crypto marketing campaign to showcase your message, highlights, why you should be trusted and what you can bring to the table. Speak about your crypto competitors, even in a good light, but be ready to position and differentiate your startup. Why should they choose you over the rest? Think big, but be aware of the small steps to get there.
Be customer-oriented
Make use of as many customer-facing resources as possible, including blog writers, PR professionals, social media marketing specialists, designers and so on (most of these we cover for you). Communicate with your crypto audience through your content creation, outreach and drive your crypto product into what engages them most. Endorse and encourage user-generated content, too, and source brands that have a dedicated crypto fan base.
And yes, it's true that you might be on a tight budget when starting up, but even the community you assemble for yourself, by default, becomes vital to your crypto campaign's success. Word of mouth is the best free marketing you can get, and organic traction will kick start your crypto project and fosters buy-in. You can then go on to offer and incentivise those who are helping you develop the buzz around your crypto project through referral and affiliate schemes, tokens or rewards, once you're ready for it.
Be involved
Think of your team as the people you are trying to reach out to. They're not necessarily math geniuses, programme developers or cryptographers, but they will be the ones to represent you and your crypto or blockchain product. The only way you can communicate to your audience is to have a solid grasp on your communication in-house. It all needs to be aligned, where both your crypto project development and your marketing of it tie in seamlessly. A lack of clarity within will only lead to a lack of clarity in your message, if everyone's not on the same page.
Be present
The audience is unlikely to show up without being encouraged to, so you need to go to them and guide the way through your crypto project. Market research will allow you to determine where, and on which platforms, your crypto product should be present. Don't simply leave it in the hands of your community to manage itself, but actively participate, join discussions, take feedback and constructive criticism, answer questions and create a crypto experience well worth getting involved in. Funding is not the only thing you can crowdsource, but ideas and great concepts from your crypto enthusiasts could lead to better accomplishments.
Don't be afraid to take a leap of faith, and diversify into various potential partnership proposals with other crypto companies. Find, work around and figure out ways in which you can help and support each others' growth strategically – leading to better chances of success all around. Win-win, right?
Be diligent
Stay on top of your platforms and communities, and maintain consistency, professionalism and updates on a regular basis. Go wherever people choose to spend their time! You may have to tweak and adapt your crypto content strategy to make sure it matches the medium.
Cryptocurrencies are an ever-changing market, so stay on top of these developments and continuously monitor and study the data you acquire. Knowledge is power, and analysing your crypto audience allows you to stay with trends, listen and adjust to what the fans are after. Remain visible, approachable and tweak and progress your crypto campaign together with the evolving crypto market.
It isn't always easy to hit the ground running, and the likes of Bitmedia.io can help you get there. It's tough to know where to start, but we're here to see your crypto project through to success. Whether it's reaching crypto fans with ad placements, building your community and gaining its trust with content, the team at Bitmedia can be with you every step of the way.
Conclusion
At the very heart of your crypto project, lies your message, your purpose and the manner in which it is conveyed. The competitive world of blockchain and decentralisation is a jungle – and one that needs to be navigated with nothing less than outstanding communication at the core of it all.
For those new to the crypto field, the need for a crypto ad network is evident. You're going to want your crypto to stand out, whether you're promoting coin utilisation, enhancing your web presence, or building brand value, and you'll need some support to get you through it. Bitmedia has a great team dedicated to this niche (or not so niche anymore!), and can collaborate with you to create a fool-proof crypto marketing strategy right from the very beginning. The process takes patience, but you can't get a better head start at bolstering a favourable outcome than working in tandem with those who have already witnessed success and helped others in the challenging crypto world.
Promote Crypto Project!