Where to Buy Gambling Traffic in 2023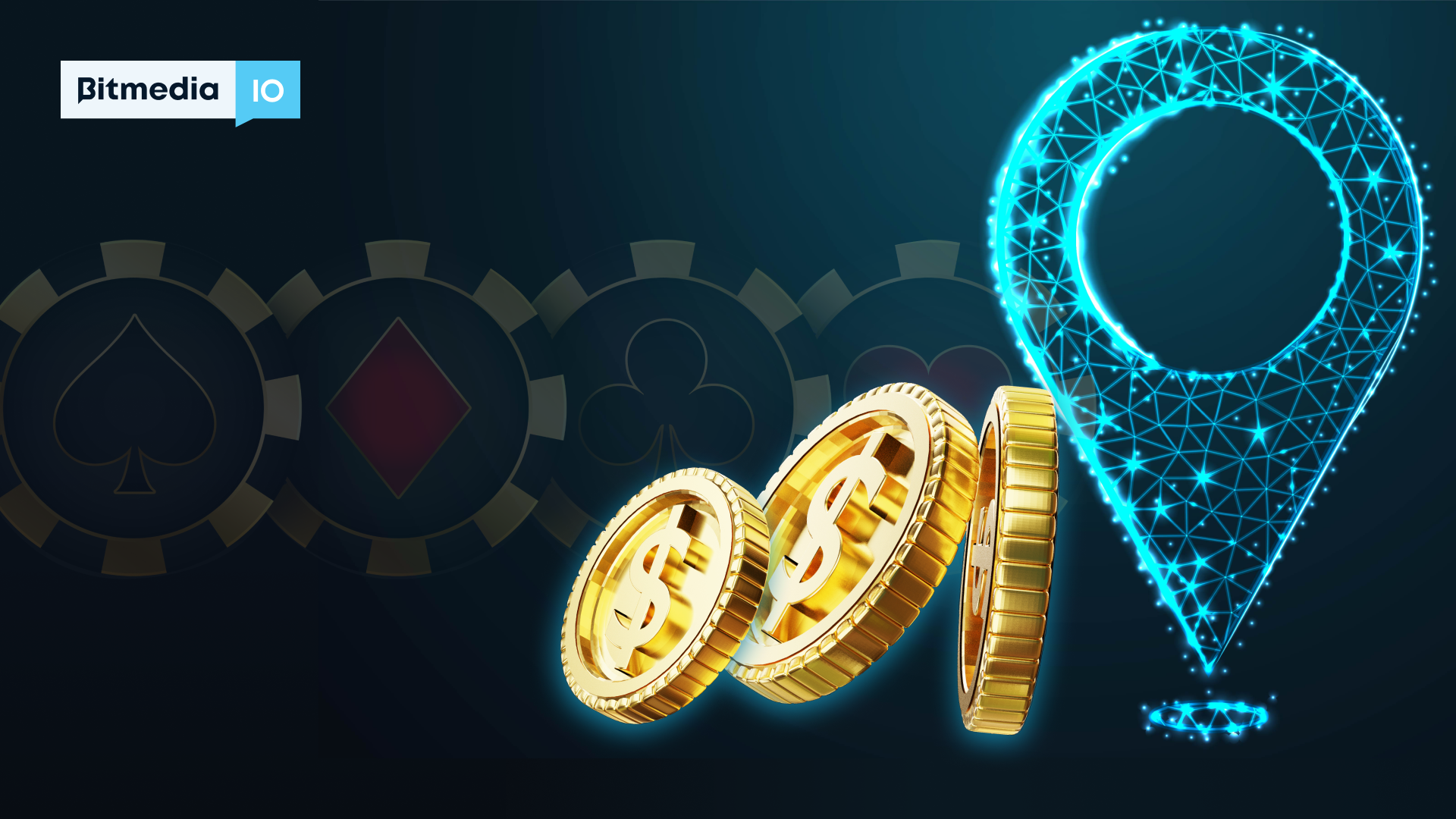 Gambling dates back to prehistoric times, and it attracts more and more people every year. According to research, 1.6 billion people gamble on a regular basis, while 4.2 billion gamble at least once a year. Offline gambling in casinos is the most popular way of gambling, however, online gambling is a new emerging trend that has the potential to change the gambling industry forever.
In the US, for instance, only 3% of the 4.2 billion people who gamble regularly reported playing online in 2022. This presents an excellent opportunity for online gambling businesses to tap into a massive market and reach a wider audience by buying gambling traffic. This article will explain how to increase the traffic at the betting website and improve the revenue
Understanding Gambling Traffic
Gambling traffic is the number of prospective visitors who visit and access online gambling platforms.
Stakeholders in the gambling industry need to understand their traffic. This helps them evaluate their respective user base and optimize their business based on data, feedback, and surveys.
Returning and unique visitors are two vital indicators for evaluating trends and patterns in user behavior. The most important data sets for gambling traffic include peak traffic times, overall engagement levels, and suitable games.
A gambling platform that understands these data metrics can create personalized offerings. Such offerings are vital when meeting customer needs and tastes.
Furthermore, the source of acquiring gambling traffic plays a crucial role when determining the most effective advertising channels.
Identifying the most effective marketing channel that brings in the majority of clients, whether it's a search engine, an ad network, or a social media platform, plays a vital role in crafting successful marketing strategies, distributing marketing budgets, and writing advertising messages.
When a stakeholder understands gambling traffic, it becomes easy to identify potential promotional issues. Such issues could be slow website loading time, high bounce rates, and/or poor user experience (UX). The stakeholder benefits from increased engagement, high retention rates, and increased revenue to address the above issues.
Characteristics of Gambling Traffic
Highly targeted and specific: The average gambler is searching for gaming platforms with the intention of placing bets, joining tournaments, and earning rewards. Therefore, any gambling platform must have clear messaging. The platform must tailor each campaign according to specific customer segments using demographics, geo-location, and gaming taste data.
Well-regulated: Gambling and betting are highly sensitive topics. Therefore, they are subject to strict advertising and financial regulations as compared to most other industries. A traffic acquisition campaign must adhere to compliance laws and avoid targeting users below 18.
Cyclical and predictable: There are times when a particular game will record increased traffic. There will also be times when that particular game will bleed traffic. For example, online poker rooms witness more traffic during evenings and weekends. However, the Online Sportsbook records more traffic during popular sporting events.
Engaging and highly actionable: On a gaming platform, users are constantly placing bets and actively participating in games. Therefore, gambling platforms will, in most cases, have immersive user experiences, interactive media, and highly engaging on-page display ads.
Creative: Gambling operators need to be more creative with their advertising and promotions due to the competitive nature of online gambling. The best ads are enticing, interesting, and straight to the point.
Promotions, incentives, bonuses, and discounts: The main highlight of gambling traffic is generous promotional bonuses. The majority of gambling operators offer bonuses, free spins, get off-cash offers, and incentives to attract customers.
How Can Bitmedia Help Create Traffic for Gambling Websites?
Bitmedia, a leading crypto advertising network, offers its clients different ad formats and banner sizes so that they suit your business's specific needs and yield the best results for your marketing efforts. A banner usually consists of text, an image, and/or a brand logo. Advertisers also can choose a pricing model that suits their needs best:
CPC, a cost per click, model allows advertisers to pay for each click on their ads. This way, advertisers only pay when a potential customer clicks on their ad banner and is directed to their website.
CPM, a cost per mile model, on the other hand, does not rely on the number of clicks a banner receives. Instead it charges the advertiser for every 1000 impressions or views of their ad.
Both CPC and CPM have their pros and cons. In order to decide which pricing model will work best for you, you should consider the objectives of the advertising campaign and its nature.
Bitmedia has developed sophisticated targeting tools that allow it to target potential customers based on different criteria, such as their location, device type, behavior, and interests. This means that your ads will be shown only to interested audience. Additionally, the platform uses tracking algorithms that allow advertisers to track the performance of their marketing campaigns in real time and make necessary adjustments.
Advanced targeting and analytical tools, in combination with a wide selection of ad formats and cost-effective pricing, allow Bitmedia to craft effective marketing campaigns and drive high-quality traffic for advertisers.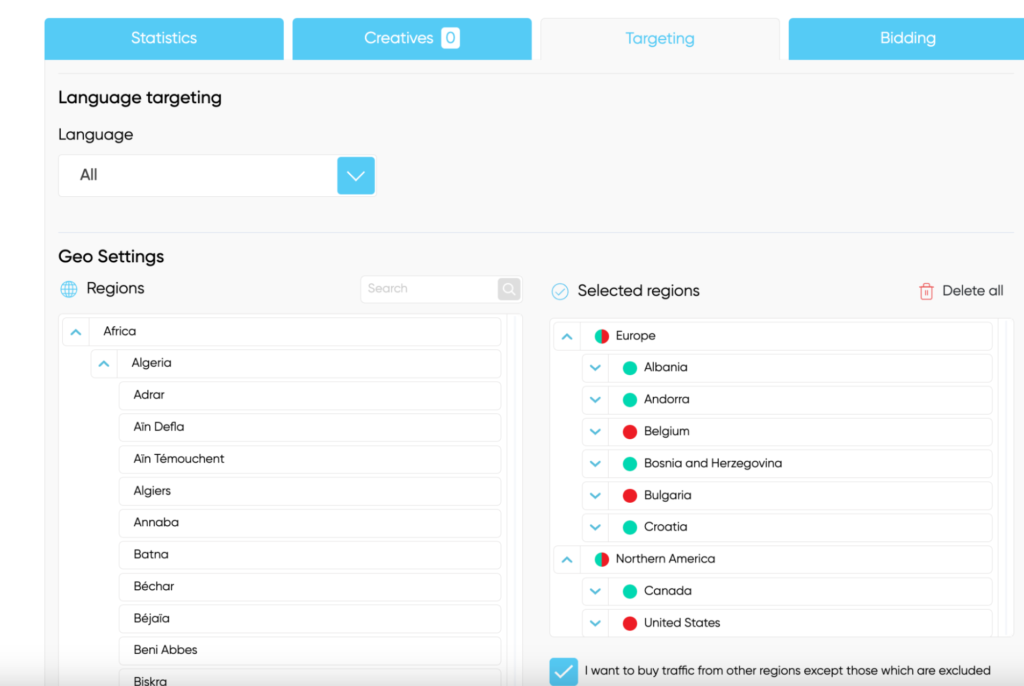 Tips and Techniques to Boost Conversion Rates for Gambling Offers
1. Use Landing Pages to Prequalify Users
Gambling websites should utilize quiz or survey-type landing pages as a method for prequalifying users and increasing conversion rates. It is also an industry standard to create separate funnels depending on your audience's different demographics. Remember, a gambling platform serves people from all walks of life, from different ages and gender.
The design should incorporate creativity and persuasive call-to-action (CTA) buttons to win user attention, drive impressions, and increase conversion rates.
A landing page that prequalifies users filters out uninterested users who fail to meet their criteria. This ensures that only more qualified leads reach the site, thereby increasing conversion.
As we mentioned, gambling traffic is mostly targeted and personalized. This approach increases the chances for a gambling platform to be more competitive.
2. Experiment With Different Targeting Options
Test out different demographics to determine the right targeting options for your gambling platform. Use attributes such as age, region, city, country, gender, language, and so on to experiment with the audience that converts best.
It is also vital to prioritize premium sources and new subscribers since they tend to convert higher than normal ones. Testing, personalizing, and adjusting your targeting options for effective gambling traffic maximizes the effectiveness of your promotional campaigns.
Make sure you track your results closely and make the right adjustments for consistent improvement.
3. Offer Exciting Freebies to Attract Customers
Gambling traffic prefers a betting or casino platform that provides exciting offers and freebies. The better the offers, the higher the chances of winning your lead's attention.
However, users need to make their first deposit to qualify for such offers. It is, therefore, important for gambling websites to clearly notify their leads that the freebie will be available upon a minimum deposit.
4. Target Mobile Devices
Statista's data indicates that 54.4% of the world's website traffic came from mobile devices (2022). With such a strong case, it is clear that gambling marketers need to optimize their websites for mobile devices. The website should be responsive and fit in with any device screen. Furthermore, make sure you test several target options and establish what works best for mobile gamblers.
5. Utilize Emojis for Better Engagement
Emojis have become an essential part of digital communication. Research showed that texts with emojis are easier to remember as compared to texts without emojis.
Emojis have grown in popularity as an integral part of digital communication. The use of emojis is vital in helping push notification ads by making them unique and attractive. You can implement emojis for both classic push notifications and in-page ads.
Using emojis in your website's overall design captures the attention of users and ensures your advertisements are visually appealing and self-expressive.
Facebook posts with emojis get 57% more likes compared to posts without emojis. Additionally, emojis increase engagement on Twitter by 25.4%. There are around 2 666 emojis, and you need to choose the best and the most relevant ones to convey your message effectively and increase engagement. The most popular emojis are 👉👇😉🎉🤔👏🚀🔥🎄👀
6. CPA Traffic or Cost-Per-Action
CPA traffic, or cost-per-action traffic, is a form of advertising that an ad network pays users for executing a given action, such as making a purchase, filling out a survey, or signing up for a newsletter. Online casinos often use this method to drive targeted traffic to their gambling portals.
How to Buy Gambling Traffic?
Where can I get gambling Traffic? There are many sources to find gambling traffic. However, not all of these sources are equal in terms of demographics, such as age, gender, location, and conversion rate.
You can get high-quality gambling traffic through advertising campaigns from the Bitmedia advertising network. With years of marketing experience and a track record for working with gaming platforms; you can get the most out of your advertisement through our services.
How can I generate gambling traffic to my website?
Generate traffic for your gambling site by implementing various advertising formats like text ads, responsive ads, image ads, and HTML5 ads. Also, consider optimizing your site for SEO, ease of use, and incorporating different payment options. Finally, the website and all its social media pages must reflect the overall brand tone and a unique voice.
Is it legal to buy gambling traffic?
Buying gambling traffic is legit and only depends on the gambling laws and regulations within your jurisdiction. The only point where gambling traffic could be illegal to buy is where a jurisdiction bans gambling. Therefore, consider researching laws within your locality to know whether gambling is prohibited in your area. Most of these regulations aim at ensuring a safe gambling environment for everyone.
How can I measure the success of my gambling traffic campaigns?
The success of your gambling traffic depends on several key performance indicators, such as conversion rates, return on investments (ROI), and click-through rates (CTR). Several analytics tools can help you gather more data and metrics for gauging user engagement and behavior. This will help gauge whether the traffic for gambling offers on your platform is valuable and converting.
Final Thoughts
Gambling traffic has to be quality and convert high compared to the competition. This is the only way that a gambling site is going to be successful. A common prerequisite is choosing the right ad network that will serve you with credible traffic for your gambling website. Remember that Bitmedia provides profitable gambling traffic for its clients. Doesn't matter whether you need affiliate traffic, CPC traffic, or CPM traffic. We got you.
Bitmedia is the largest crypto display ad network that delivers a set of tools and features for successfully launching a gambling marketing strategy. Bitmedia supports a wide range of advertising formats (including text ads, responsive ads, image banners, and HTML5 banner ads), provide marketing services like content creation and distribution, influencer marketing etc. To know more go to Bitmedia marketplace or contact your account manager!
Boost Gambling Website!