Revolutionizing Your Crypto Marketing Strategy: Tips and Tricks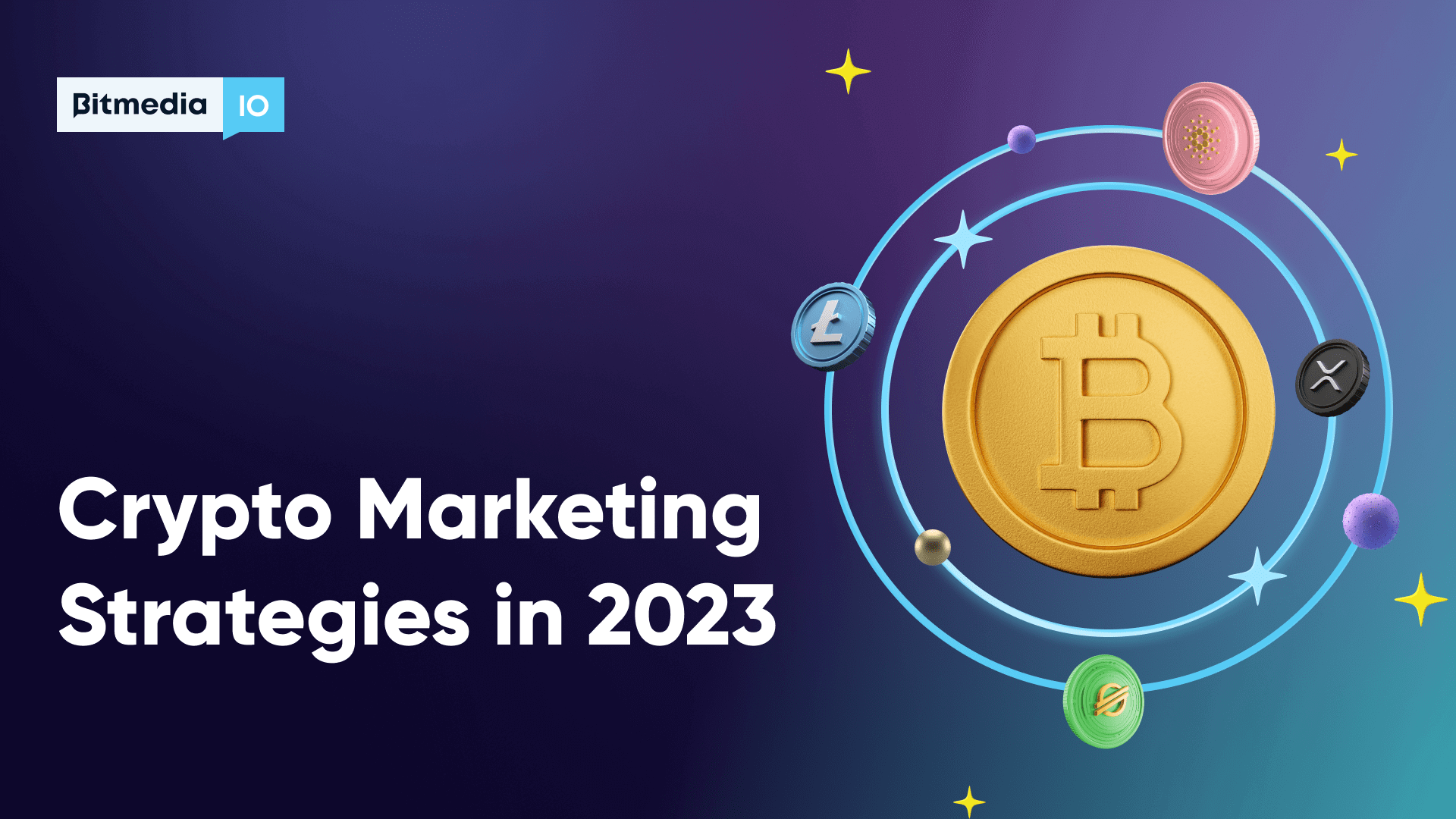 In this article, we delve into the future of crypto marketing and discuss how marketers are leveraging technology to create a revolutionary blockchain marketing strategy.
In 2023, the crypto landscape has vastly changed and hence the need to examine the new ways that marketers are using to reach more people.
You will find wild statistics, expert opinions, and trends that will help you navigate the hyper-evolving marketing moves in the crypto community.
Marketing cryptocurrency comes with additional benefits to both brands and users. The users get an education and more information about DeFi projects. On the other hand, projects benefit from more users, conversions, and ROI.
Crypto marketing is also crucial to the general industry for providing greater transparency, enhancing decentralizing blockchain-powered advertising, and creating an incentive structure for community engagement.
Let's look at some of the ways marketers can revolutionize their crypto marketing strategy and benefit from this untapped potential. Continue reading to explore some of the best cryptocurrency digital marketing methods.
– Build and Engage Your Community
Only 16.9% of cryptocurrency investors fully understand the technology behind digital currencies. A whole 33.5% percent of investors have no knowledge about the cryptocurrency space. However, this has not stopped them, with 40% of all cryptocurrency purchases being from new investors. One of the driving factors for the high adoption rate is the growth of communities, which serve as a marketing tool and an education platform.
Crypto communities comprise crypto enthusiasts who share a passion for the blockchain. The majority of them are already acquainted with foundational knowledge about cryptocurrencies, while others are looking for a place to learn. This means that crypto projects need to value the community setup and use Reddit, Telegram, and/or Discord to build such communities. And it does not stop there; any future marketing strategies must adhere to community engagement and growth. Any posts must be knowledgeable, interesting, and authentic to your crypto brand. Combine a blend of blog posts, social media content, videos, ask-me-anything (AMA) sessions, podcasts, and infographics to keep your community engaged. Content is the best crypto strategy for driving adoption, maintaining an engaging community, and teaching people more about crypto.
– Use Banner Ads and Display Advertising
Banners and display advertisements are ads that combine an image, text, and a URL to the brand's website. These ads come in different formats; they could be static, animated, or have multiple images or rich text media. At a time when 54% of internet users find display ads and banners intolerable, brands are coming up with creative ways of winning impressions through display advertising.
To avoid the 10 mistakes marketers make with display ads, learn more about Bitmedia banner advertising, and let's build your campaign from scratch. Bitmedia has homegrown the best cryptocurrency strategy for promoting crypto using display advertising.
– Publish Press Releases to Announce Updates
A press release is the most affordable form of online advertising and publicity. Crypto marketers combine both press releases and sponsored posts to spread the word about a product. Usually, the tone of a press release is mostly newsworthy rather than ad-like. Your brand also benefits from the audience of the publishing crypto platform. The primary goal of a press release is to induce perception and maintain a generally positive tone throughout the brand's journey. PR releases are a good way to stand out in the crowded crypto competition and put your announcements in front of a broad audience.
– Collaborate with Influencers
50% of millennials trust products that influencers have recommended. It is possible to work with recommendations among friends and family. However, the results are usually in small numbers compared to an influencer's reach of thousands. There are two types of influencers, macro and micro-influencers. The former has 1000 – 100,000 followers, while the latter has anywhere between 200,000 – 1000,000 followers. Most cryptocurrency marketers work with micro-influencers because they have already niched down to, perhaps, crypto. A macro influencer is nearly a celebrity with a massive following, and most of them cover multiple niches, which is not reliable for cryptocurrency brands. For every $1 that a business invests in influencer marketing, it generates $6.50. The very first step to getting started with influencer collaborations is understanding your product and your target audience and picking the appropriate partner. The next step is to write a mutually beneficial agreement, create high-quality and relevant content, and finally promote the content through your social media pages. Bitmedia, a famous crypto advertising company, collaborates with influencers to create a valuable exposure for your crypto business and help it gain trust and credibility within the crypto community.
– Encourage People to Share Your Message
Encouraging people to share your message is one of the best crypto strategies for promoting your blockchain project. A person effectively endorses your content as trustworthy and valuable whenever they choose to share your community content. Therefore, cryptocurrency marketers need to effectively get their customers to hit the share button. Remember, not all content is shareable. Aspire to create valuable and engaging content that wins impressions, and sharing will become automatic. Also, remember to build a strong brand identity and unique voice that resonates with your audience so that your community becomes consistent whenever they choose to spread the word about your crypto business.
– Create Excitement and Buzz
Creating excitement and buzz is usually common prior to product launches. This is because the buzz is the most certain way to attract attention to a new service. A successful buzz campaign comes from emotionally resonating with your target audience. This is possible if you can solve an existing problem through your product. Once you have credibility, establish thought leadership industry partnerships with research organizations, influencers, and media platforms to create excitement about your offering. Buzz will work out effectively if your business fully understands your target customers. The next step is to now mobilize social media platforms, networking events, sponsored posts, press releases, and word-of-mouth campaigns to gain deeper traction. Creating buzz and excitement is one of the most reliable cryptocurrency strategies for establishing your product's market traction.
– Use Social Networks to Reach More People
55% of social media users are utilizing social search buttons to look for brands, content, people, products, and inspiration. Instagram, Youtube, and Facebook lead with the best social search capabilities, and each of them has the ability to hit over 2 billion monthly active users. This indicates the value of strategically placing your brand in front of these searches. A consumer survey shows 31% of social media users prefer discovering new products through influencers. For Gen Z, the percentage is even higher at 43%. The best way to increase reach through social media is by posting frequently, engaging with fans, boosting your posts with paid ads, and optimizing your content for SEO.
– Utilize LinkedIn for Networking
A Linkedin ad is said to reach 14.6% of the total global population. To put that stat in context, Linkedin is the third-largest social media platform with a specific focus on business. Unlike Instagram and Facebook, the average Linkedin user logs in daily, posts once a week, and engages organically with brands. The platform already has a vast professional audience of 875 million users, 40% of whom visit brand pages organically per week. This makes the platform an outstanding place to build community, reach more people and promote your crypto brand. Some Linkedin tips include optimizing your profiles and pages, joining relevant groups, participating in professional discussions, and utilizing the versatility of the Linkedin Sales Navigator.
– Conduct Airdrops for Increased Visibility
Airdrops are growing in popularity as a strategy for distributing free tokens or cryptocurrencies to a large community of people. While they are an effective tool for building strong community support, airdrops are best for increasing project visibility and generating buzz. Conducting an airdrop involves identifying your target audience, setting clear objectives for the project roadmap, choosing the right platform for the airdrop, and finally promoting the airdrop prior to D-day. An airdrop is one of the most effective crypto selling strategies you can use to raise more awareness about your blockchain project.
– Offer Interviews to Gain Credibility
Offering interviews to thought leaders and prominent figures in the blockchain space is an effective strategy for winning credibility. Interviews are also a great way to share more perspectives and details about your project. Also, get key personalities representing your brand to get interviewed by influencers. This could be on podcasts, popular crypto-related Youtube channels, and popular crypto publications. Tips for highly viral and high ROI interviews include exhaustive questions, thoughtful and thought-provoking insights and promotion. It is also possible to publish and distribute an interview as a press release.
– Utilize Telegram for Community Building
Telegram records 700+ million monthly active users as of 2023. The number of active users per day is 55.2 million, and that number has been increasing by a 30% rate since 2020.
In the last decade, Telegram and Discord have become the de-facto standard for blockchain community building and communication. The majority of project founders attribute this situation to Telegram's security and encryption features.
Telegram groups can hold up to 100,000 members, while a brand can leverage the Telegram channel feature to broadcast public announcements to large audiences. Other vital features include cross-platform availability, pinned messages, cloud-based messaging, and advanced moderation tools. One of the many benefits of Telegram communities in the blockchain space is boosting credibility and trust. Presence is enough proof that a project is open to suggestions, criticism, and questions.
– Optimize for Search Engines
According to Statista, 60% of people search and learn about brands online before deciding to invest in their products. These people discover the brands through search engines. However, it is worth noting how those brands came about in their position on the search engine results page (SERP). Search engines rank websites and content according to user relevancy and thought leadership. Google, for instance, ranks each content's relevancy by evaluating keyword usage, tags, and titles. A solid SEO marketing strategy will get more traffic to your website via search engines. Combine multiple methods such as intent-based keywords, inbound links, backlinks to other sites, and off-page SEO strategies to bring more visitors.
– Use Email Marketing to Connect With Your Audience
89% of marketers have email as the primary channel for generating leads. It's probably because 99% of internet users check their emails daily. A 2022 study revealed that professional marketers saw a 760% increase in revenue on implementing email lists and email campaigns. Leveraging email marketing involves building and segmenting an email list, creating personalized email content such as newsletters, sharing relevant content with your audience frequently, and finally implementing A/B testing to measure results and optimize your email campaign. Bitmedia can assist you in creating newsletters promotion campaigns that will boost your brand visibility and drive traffic to your website.
– Establish Your Brand Identity
A cryptocurrency brand, as with any brand, needs a strong visual identity. Your brand identity refers to the way that customers perceive and feel about your business. This could be how your brand communicates visually, verbally, and in the design language. In building a strong brand identity, a business needs to outline its mission, vision, and goals. The business should use a recognizable design language with its color palette, logos, and titles. Style of communication and tone should remain consistent and indicative of your business.
If you want to guarantee the success of your advertising campaign and establish a strong brand presence, consider using services of an advertising agency like Bitmedia. Their team of professionals will craft compelling messages that will reach the right audience and build a positive reputation for your company.
How to Revolutionize Your Crypto Marketing Strategy
Expert crypto marketers recommend projects to do their marketing where their potential users are most active. For example, it was possible to meet all the growth marketing KPIs in 2018 by using social media influencers. That trend could be on its deathbed, given the rising number of the industry's opinion leaders. Therefore, the best places to get a far more active blockchain community are via Telegram, Twitter, Reddit, YouTube and TikTok.
There are crypto projects that have testified to using organic SEO successfully within a few months. By only optimizing pages the traditional way, having a few keywords, and bingo, they get their crypto exchange ranking.
Banner ads and display advertisements are also effective for marketing crypto projects. Bitmedia runs one of the most display advertisement models for blockchain products and crypto businesses. The cryptocurrency digital marketing team at Bitmedia is not only experienced but understands the unique features of the industry. Hence they are able to blend multiple ways of marketing to achieve perfect results.
Crypto marketers need to remain cautious of bots. It is important to know whether a significant population of bots lags behind your community users. Think of the millions of dollars of revenue that could be saved if you replaced the bots with real humans.
Nevertheless, the future of crypto marketing relies heavily on content creation, social media, influencer outreach, and SEO. It is important for your cryptocurrency marketing team to gain a deeper understanding of the unique nature of the blockchain. This will help bring more practicality when advertising your projects.
Bitmedia is a leading crypto marketing platform that offers a range of services to promote cryptocurrencies and blockchain projects. Our comprehensive suite of marketing solutions includes
display advertising,
content marketing (writing, editing, translating),
sponsored articles and PR,
influencer marketing.
With access to a vast network of publishers and websites in the crypto industry, Bitmedia enables targeted and effective advertising campaigns to reach the desired audience. The self-serve platform allows users to create and manage campaigns easily, with real-time performance tracking and optimization tools. Bitmedia's expertise in crypto marketing, combined with their advanced targeting options and transparent reporting, make the company a trusted choice for boosting visibility and driving engagement within the crypto community.
Choose Bitmedia!