Complete Guide To DeFi Marketing: Part III – Post-Launch Stage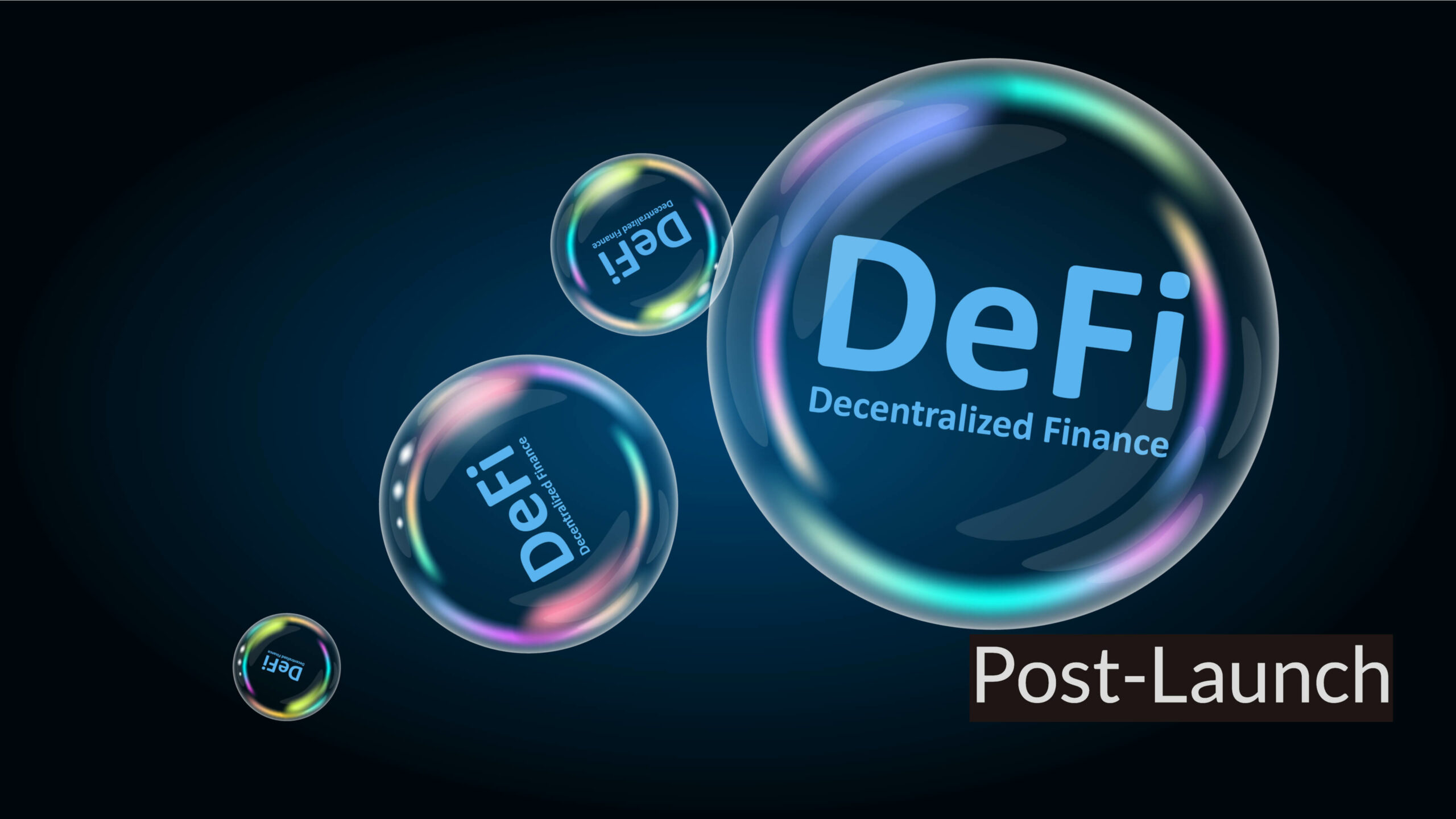 If you have closely followed Part I – Pre-Launch and Part II – Launch of Bitmedia's DeFi marketing guide, then let's assume that omnichannel marketing already blends in seamlessly with the goals behind your project. With that being said, although these tools have huge potential to contribute significantly towards building your customer base, you need to make every effort to maintain it.
The success of your project depends on how multi-faceted and consistent your approach to DeFi marketing is!
This time, we will explore the technicalities behind the employed crypto marketing tools. We will learn how to fine-tune each and every one of them, as your DeFi project's brand awareness takes shape. After all, you'll need to consider each aspect of the way you run your marketing strategy in order to achieve maximum profitability. Ready? Let's begin!
Recap of the DeFi marketing strategy
DeFi marketing on the launch stage dived into the various types of marketing instruments that could rocket your DeFi project to success right after its launch. You'll want your marketing campaign to hit the ground running, and the below DeFi advertising tools are just the shoes you can wear to help you cross the finish line…
Exchange Listings and DeFi Trackers. Getting involved in decentralized exchanges (dApps), and listing your DeFi project on platforms like DeFiPulse or Staking Rewards, will attract plenty of interest. DeFi fans eagerly await exciting new projects – so make yours visible to the masses.
Crypto display ads. Being the driving force behind every successful crypto marketing strategy, crypto ad networks are as ever important and effective. The latter flows from the fact that you get instant feedback on the campaign performance and can therefore adjust it towards higher conversions.
SEO/Content Marketing, SMM and Influencer Marketing. Connecting your DeFi marketing to what your audience is after is essential to remaining relevant. Be prepared to adapt to the demand of the DeFi industry, and be sure to continuously share your content on appropriate social media platforms, subreddit threads, and Telegram channels. Collaborate with influencers or KOLs to build credibility and brand recognition. All these, in turn, breed DeFi leads, ultimately reflecting in keen followers which form the foundations of your DeFi community.
Trading Rewards and Referral Programs. Provide Sign-Up incentives and referral links with bonuses for participating in your DeFi project. Offering solid rewards gives you a chance to give a little back (ideally in fiat money) so they can reinvest it into your DeFi token. They'll help you grow if you help them earn.
Media Mentions, PR, and Blockchain Forums. Gaining mentions in reliable DeFi publications or engaging crypto media corporations and agencies will solidify credibility. Think about quality, not quantity.
"The gap between what is expected and what you deliver is where the magic happens, in business and in life"
– Jay Baer, Author and Founder of Convince and Convert
DeFi Marketing is an ongoing process
The decentralized finance industry is sophisticatedly intricate, transformative, and ever-changing, making it crucial to stop, analyze, test and re-align your DeFi marketing strategy habitually. Once you've set the wheels of your campaign into motion, you must frequently assess the vehicle and make the necessary adjustments.
Your DeFi data is your driving force
Data dominates here, and the more you obtain, the more your marketing campaign will benefit the project. Unite your data and DeFi ad campaign, so you can tweak and refine your ads as your project grows. As Dan Zarella, (social media scientist), put it – "Marketing without data is like driving with your eyes closed."
Tweaking your existing DeFi marketing tools
Go with the flow, and rather than view your DeFi ad strategy as a single, static object, see it as a living, breathing organism that requires nurturing and attentiveness. Keeping your finger on the pulse of current trends will ensure your DeFi advertising remains relevant. Tried and tested marketing campaigns work because they've proven themselves, so don't be too quick to steer clear from more 'traditional' ad tools.
Regularly visiting your strategy to assess its impact will provide you with insightful information to help you modify and refine your campaign. Listen to the DeFi community, analyze demographics, understand their behaviors and attitudes, and target your campaign towards what they want. Prepare and plan, analyze and assess results, adjust, re-align and then – do it again.
"Master the topic, the message, and the delivery"
– Steve Jobs
You'll find particular DeFi marketing tools that will work better for you than others. Some of these advertising instruments can achieve better results if you adapt them to the data you collect. If we delve into Display ads further, for example, you'll find a surprising amount of adjustments you can make to target your DeFi audience better.
– Display ad
We know that Display ads are worth the investment, yielding widespread exposure across the online world. Now, it's great that your followers see your DeFi banners, but how often do they need to see them?
– Frequency Capping
Prevent bombarding your community with incessant ads by limiting how often your DeFi banners get shown to a single client. Retargeting has fantastic ROI, but you'll lose your customers if you 'stalk' them with a constant influx of ads. It's a fine line between too much, and too little, so a lot of awareness will go a long way to striking a balance between the two. Test, test… and then test again – it's wise to ensure you're assessing the most effective frequency cap for your particular DeFi banner ads.
Otherwise, just speak to the Bitmedia team and we will direct you in the right direction.
Once you've ventured into the realm of DeFi display ads and want to explore additional DeFi campaigns, you can split them into individual 'Ad Groups', making it easier to monitor each banner stream independently and collect separate statistics for each.
– Ad Groups
These Ad groups will form an indispensable component of your pay-per-click (PPC) marketing. Innovative ads help you drive more traffic with conversions as a prize, but the main goal is to develop DeFi Ad Groups that cost less but convert more. Organize your banners into a hierarchy that is meaningful to each individual campaign. Select purposeful brand messages and maintain consistency across the board.
– Geo Funnels
If you are not targeting a specific region and do not know where to start, you can always begin with a large coverage. Once the first results are in, narrow down the geography of your banner presence and target only those regions that deliver highest conversions. This way you save budget and find out exactly where the most responsive audiences live.
"A brand for a company is like a reputation for a person. You earn a reputation by trying to do hard things well"
– Jeff Bezos, CEO of Amazon
Most people aren't counting the number of ads you're running, but they'll certainly recall the impression you make. If your Ad groups are well-aligned, you'll pay less for your clicks whilst creating brand awareness and securing your DeFi project's reputation as a success.
– Community
Your DeFi project's marketing campaign is advertising a promise to your potential followers. Reliability, quality, and consistency are all key ingredients in order to maintain loyalty, and your community could, in turn, be an incredible DeFi marketing tool. It is a live entity, one which your campaign must cultivate and nourish. Widen the horizons for DeFi Referral Programs, or source Affiliate services on dedicated platforms by making them region specific. Whether it's running content marathons or offering incentives for developers to engage in your DeFi project, amazing things will happen if you take the necessary time to listen to the needs that your data will reflect. Your DeFi project's sustainability and growth stem from the customer relationships you value, and engagement is something that can only be built, not bought.
– PR (On-Site/Off-Site)
To support your DeFi campaign, then both your On-Site and Off-Site content will matter significantly.
– On-Site
This is the first thing you'll want to focus on in order to rank higher in search engines online. Here, your aim is to optimize the content that's on your webpage, including your page title, page name, content and keywords, internal linking, and so on. Showcase well-crafted content that will appeal to the general DeFi community, and include informative blogs, guides, Wikis, and excellent call-to-actions (CTAs).
– Off-Site
This type of content attempts to appeal to the DeFi population through main media publications and major outlets. It isn't an easy process to obtain links from authoritative sites, but it will increase the number of leads and visitors to your website. Remain relevant and newsworthy, and involve yourself in the community by writing content around national and international events, conferences, on social media, and within various DeFi niches. Have a great PR strategy in place so you can earn links, which, in turn, will direct more interest towards your DeFi project.
– Partnerships
Going the distance all alone is not always the best solution to growth, especially when it comes to DeFi marketing strategy. Instead, consider finding a partner that already has a large user base and can benefit from joining forces, the same way as your project benefits from the additional reach. First partnerships for DeFi projects happen at the stage of token listings on decentralized exchanges. Still, there is nothing that stops you from expanding further and therefore, consider the following Dapps:
Once the listing part is covered, it is good practice to take partnerships a stage further and these can be in line with improving the product functionality and achieving a greater reach in terms of community that other projects have nurtured.
Go the DeFi distance
The DeFi, blockchain, crypto, and tech sphere moves much too rapidly to plan a DeFi marketing strategy on a wing and a prayer. Advertising isn't a 'one-time' great event, but an accumulation of all the little things that will count further down the line.
There's no best practice for each DeFi advertising campaign, only what works for yours. It will come down to your DeFi project's goals, details, incentives, urgency, and creative fervor. But the cherry on the DeFi marketing cake still remains your faithful fans. The voice of your DeFi ad campaigns should resound the feedback received from the digital dialogue you sustain with your loyal following and marketing tools. Brand awareness and recognition will emanate from the credibility you develop and the trust you create. The true aim of marketing is to understand your DeFi audience so well, that your DeFi project sells itself.
Promote your defi project