Case Study: Publishing ads on a bitcoin faucet. Income, Ad Figures and Overall Experience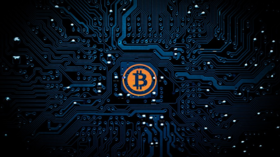 Recently we had a talk with one of our publishers, the owner of 'Satoshi Hero' faucet.

He shared some insights of monetizing his website by means of different bitcoin ad platforms and told us about the ones with highest payouts. The webmaster also provided some statistics on the banner performance as well as some general overview of income growth over the period of cooperation with bitmedia.io. In addition he generously gave us his suggestions about how to improve BitMedia in future.
I started 'Satoshi Hero' and 'Satoshi Monster' in 2017 and luckily, since then these websites have became very successful among other bitcoin faucets.
To monetize the websites I created some banner slots to show ads on them. Then, I started looking for ad networks with a constant flow of advertisers, so that I could gain profit.
Fortunately, I managed to find a lot of advertising networks operating in the crypto field. However, only few of them appeared to be efficient and user-friendly. Only some of the ad networks had a large number of advertisers and almost none of them was equipped with data analysis feature.
It's clear that the fields of cryptocurrencies and bitcoin, in particular, are constantly evolving and changing. Therefore, both publishers and advertisers have to respond to these changes very quickly to keep their business alive.
I, personally, often test different ad networks, checking current CPM rates and predicting our revenue to find the best partner to work with.
Thus, I've tried out 3 most famous bitcoin ad networks. For the purposes of ethics, I will not state their real names. However, these are surely the biggest and the most popular ad networks in the crypto field.
The results of the test are given below.
| | | | |
| --- | --- | --- | --- |
| | impressions | revenue | CPM |
| Bitmedia | 333,056 | 0.002482 | 0.00000745 |
| Ad network A | 382,685 | 0.00192126 | 0.00000502 |
| Ad network B | 150,000 | 0.00001953 | 0.00000013 |
In the end, we have found out that the #1 paying bitcoin ad network is Bitmedia with an average CPM rate of 0.00000745 BTC. In fact, it has CPM 48% higher than the one of its closest competitor.
What I also liked about this platform is that it collects detailed statistics about impressions, so I can analyze the information properly and make changes if needed.
For example, I can check the efficiency of each banner I have. Currently, I use 4 different types of banners:
• 200×200
• 300×250
• 468×60
• 728×90
After looking through the analytics of their performance, I found out that the 300×250 and 468×60 banners are the most beneficial with an average CPM at 0.000014 BTC.
Here is a screenshot from the dashboard of my account, where I constantly check the statistics of each banner (for privacy purposes I will not show real revenue rates, only the dynamics and general trends).

In my personal account, I can see daily statistics of each banner and make some changes if required. For instance, my 300×250 banner is showing fairly good results so far (as can be seen on the screenshots below):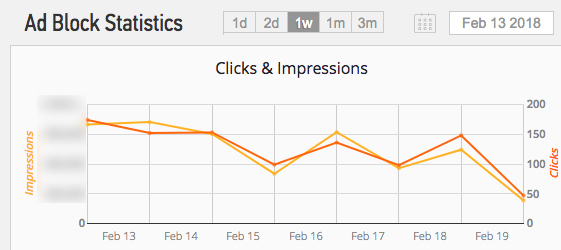 As for the second one of my most efficient banner sizes (468×60), it's performing as follows: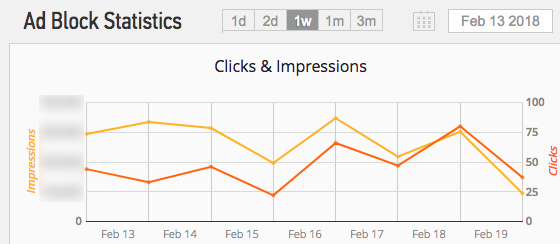 During the last 7 days, all 4 banners had the following performance:
| | |
| --- | --- |
| Ad unit | CPM |
| 200×200 | 0.00000547 |
| 300×250 | 0.00000960 |
| 468×60 | 0.00000999 |
| 728×90 | 0.00000958 |
Here are some numbers:
So far our audience has grown by 800 times and the number of impressions on a single website has increased in 220 times. Have a look at the overall changes in impressions over the months of cooperation: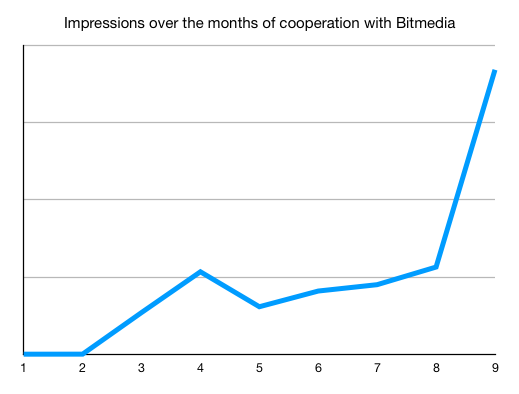 Concerning the most important performance result – generated income, it grew 2,000 times. Overall fluctuations in our income from this ad network you can see on the graph below: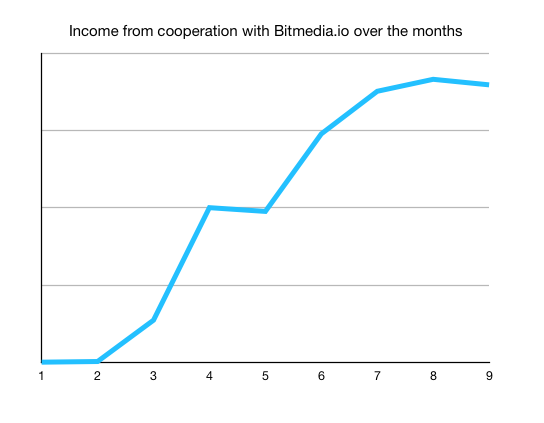 As it can be seen, our revenues have been growing through the whole period of cooperation. Bitmedia generally gives us 50% more income than other bitcoin advertising platforms.
As for desired improvements, I'll appreciate launching a CPM-floor function. This will allow me to set minimum CPM for my banners and thus only ads with CPM exceeding the floor-rate will be shown on my banners. What's more, I'd really like to have more advertisers using this network, so that my income as a publishing website will only increase.
My overall experience with Bitmedia has been great. I hope new features and improvements will be launched, so that I'll be able to benefit from this service even more.
Want to share your experience? Please contact us on [email protected]!