Bitmedia Affiliate Program for Advertisers and Publishers – Join to Earn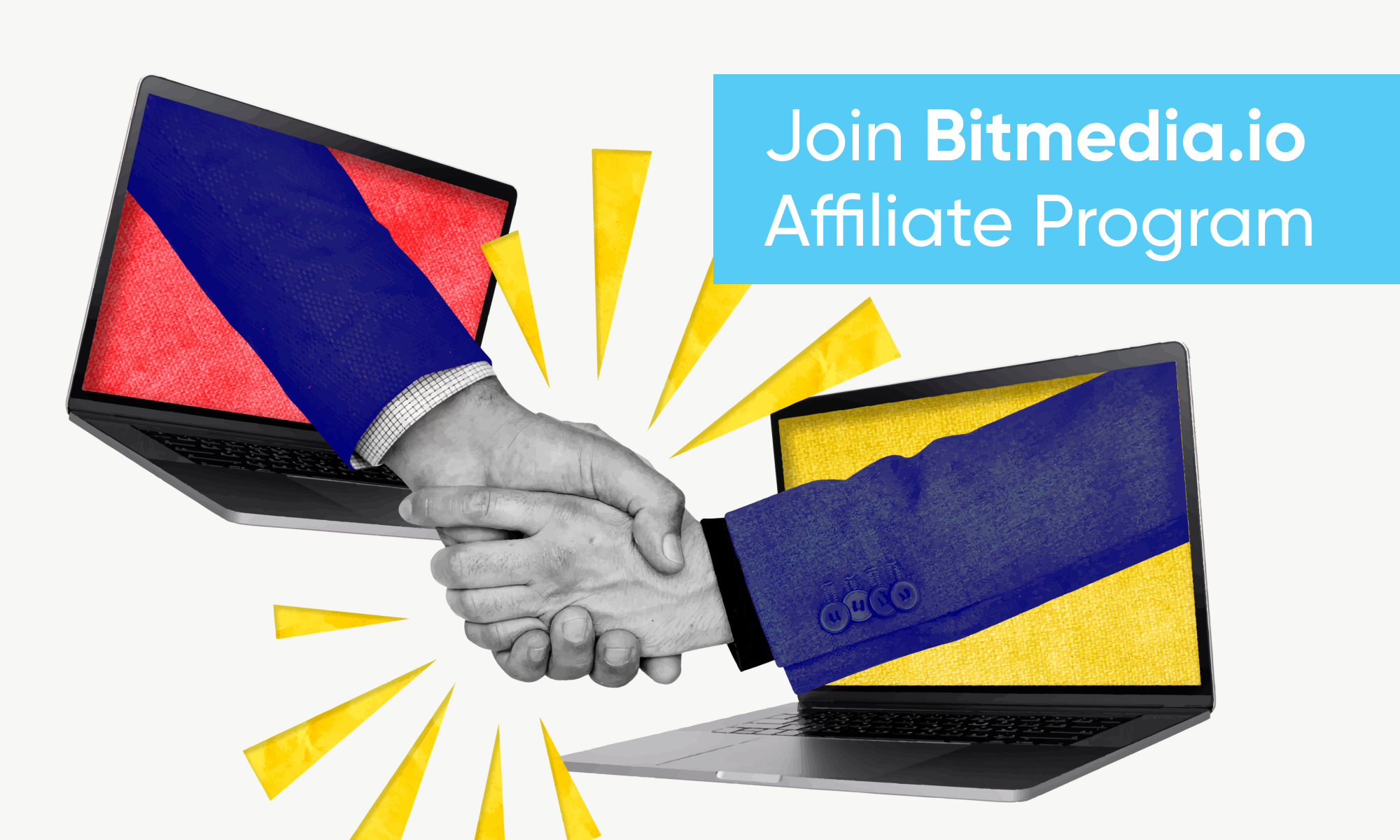 Have a look at our brand new affiliate program and all it has to offer! We have introduced a program that allows you to earn while spreading the word about our advertising platform. If you want to apply for our program, you can sign up at Bitmedia.io
What is affiliate marketing?
Say you have popular analytics or community-driven website. Now imagine having a custom link that you can spread around with partners or colleagues, one that will earn you a commission fee each time someone becomes a customer of Bitmedia. Both Advertisers and Publishers will be eligible for all the features our program has to offer. It's that simple!
How to Get Started?
You can share your custom link with your networks and help us on our journey — all while earning a commission fee for yourself!
There are three simple steps:
Apply: Register & Receive your unique referral code & link;
Share: Use your Bitmedia referral link wherever it is possible & share it with your partners or friends;
Earn: Upon successful subscription of referrers, affiliates will be eligible for receiving rewards.
There are no limits on the number of people you can refer, the amount of commission you can make, or the number of times you can share the link!
Payout Structure for Affiliates
There are two categories websites can qualify for:

– An individual page – meaning that you have your own blog and social media account.
– The corporate page – a business model web with a possibility to reach a larger audience and provide additional promotional likelihood. When joining up as a corporate client for the referral program, please provide your firm email and website.
Advertisers
Affiliate category
Total # of referred users
Payout % initial
Payout % old
Individual
Less than 10
7%
5%
More than 10
10%
7%
Corporate
–
From 15%
From 7%
Publishers
Type of Publisher
# of Monthly Pageviews
Payout
News
100 000- 300 000
5%
300 000 – 500 000
7%
500 000 and more
10%
Review website
100 000- 300 000
7%
300 000 and more
10%
Community website
100 000 and more
5%
*Referral payments will be made on a monthly basis
How to know if the Web is eligible?
First of all, the minimum number of monthly pageviews for the Web should be no less than 100,000
Website categories that are eligible:
-Websites that cover main industry news and market analytics;
-Websites that evaluate and overview existing businesses and products as well as their ratings & feedbacks;
-Websites that involve community discussions and activities.
Websites that are ineligible for publisher referral program:
– Faucets
– Traffic-incentive platforms
– Blogs (personal blogs, free hosting websites)

Are you ready to join the Bitmedia Affiliate Program?

To get started, click on the Apply Now button and fill in the registration application form to see if you're a match. A member of our team will reach out to you once you've been approved for the program.
If you have any further questions about the program, you can send an email to [email protected] and someone from the team will be happy to help you.
Apply Now