AWSUMMIT: Europe's Premier Digital Conference Heads to Ibiza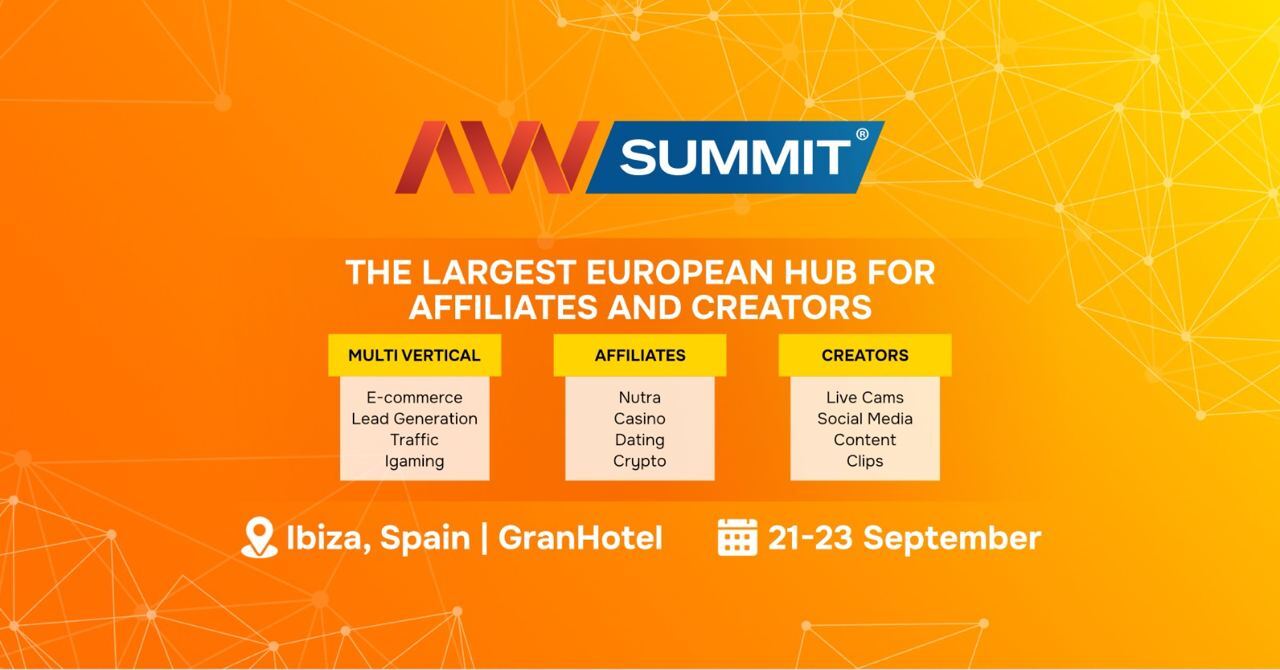 AWSummit, the largest European hub for affiliate marketers, digital companies, monetization platforms, and entrepreneurs, is proud to announce its upcoming event, scheduled to take place from September 21st to September 23rd at the prestigious Ibiza Granhotel in Ibiza, Spain.
The AWSummit conference serves as a platform for exchanging ideas, knowledge, and building valuable business relationships. With a diverse range of niches and industries represented, attendees can expect a comprehensive program that covers a wide spectrum of topics and verticals such as e-commerce, finance, casino, traffic, crypto, gaming, software, technology, marketing, lead generation, Nutra, sweepstakes, SEO, COD, e-mail, social media.
From affiliate marketing and digital entrepreneurship to social media trends and monetization strategies, AWSummit provides a holistic approach to learning and networking. Renowned keynote speakers, workshops, the ultimate boat experience, a meet market offering unique gifts and potential business partnerships, Ushuaia VIP Experience to create unforgettable moments and dance under the open sky, The Village which is the perfect spot for all content creators to unwind and relax, a casual business lounge area, speed presentations offering exciting opportunities to captivate your target audience and last but not least engaging networking events are all part of the captivating program designed to inspire, educate, and empower attendees.
For affiliates, AWSummit offers a unique opportunity to increase income and success through expert-led keynotes, access to a curated expo featuring top-notch products and services, and invaluable networking opportunities. The event serves as a catalyst for collaborations, co-promotions, and expansion into new markets, ultimately driving growth and amplifying success.
Creators, on the other hand, will discover a wealth of resources at AWSummit to grow their followers base, optimize content and time, and forge connections with agencies and traffic sources. The Creators Lounge is specifically designed to facilitate interactions, collaborations, and provide insights into the latest trends and tools, ensuring creators stay at the forefront of innovation and maximize their reach.
"We are incredibly excited to bring AWSummit to Ibiza, a destination known for its captivating beauty and vibrant energy. This year's conference promises to be our most dynamic and impactful event yet, offering a multi-vertical ecosystem where industry professionals can learn, connect, and thrive," said Roxana Chirila, CEO & Co-owner at AWSummit.
The AWSummit conference invites decision-makers, entrepreneurs, professionals, and enthusiasts from various industries to explore game-changing innovations, discover new business models, and foster cross-industry collaboration. By creating a dynamic environment where experts across different fields come together, AWSummit aims to ignite innovation, knowledge exchange, and synergies between industries.
For more information about AWSummit and to secure your spot at the event, visit https://www.awsummit.com . Early registration is highly recommended as limited tickets are available.
For media inquiries, interview requests, or sponsorship opportunities, please contact:
Laura Vamanu, Sales and Brand Manager, AWSummit, +40 746 999 888
Cristina Cernei, Event & Community Manager, +40 756 500 657
About AWSummit:
AWSummit is the largest European hub for affiliate marketers, digital companies, content creators, and social media specialists. Through its comprehensive program, AWSummit aims to foster knowledge exchange, collaboration, and business growth within the industry. The event features renowned keynote speakers, workshops, an expansive expo, and networking opportunities, providing a platform for professionals to connect, learn, and thrive.