SiGMA Toronto opens online registration with early bird tickets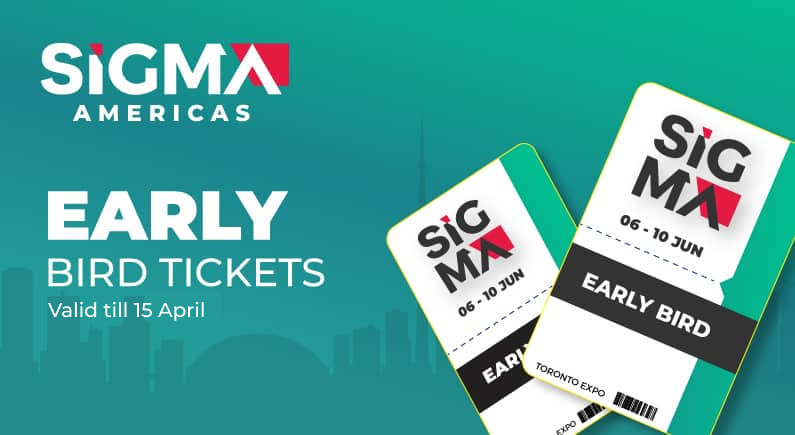 The tickets include full access to the expo, as well as an invitation to network and enjoy a few drinks at the official welcome reception
Bitmedia is thrilled to be a Media Partner at SIGMA Toronto 2022. This event will bring together significant blockchain communities and enthusiasts all over the crypto world.
Following the launch of SiGMA Americas' inaugural Toronto summit, SIGMA has officially opened online registration for the event. Delegates who take advantage of early registration will benefit from advantageously priced early bird tickets – which are available on the website for a limited period of time.
The tickets, which are on offer for just $49, include full access to the expo, as well as an invitation to network and enjoy a few drinks at the official welcome reception. The tickets run until 15 April, after which standard prices open at $99, and eventually a series of last minute tickets at $149 for last-minute buyers.
SiGMA Toronto
SiGMA Toronto, which takes place from 6-9 June, will focus on leveraging the natural synergy between the emerging tech and iGaming sectors, taking advantage of an industry enjoying rapid growth following recent iGaming reforms through the legalization of single-game sports wagering in Canada and the launch of Ontario's regulated iGaming market.
In addition to a full agenda of expert-led panels and workshops, a high-energy expo floor offers a direct line to some of the top brands in the business – making it an ideal place for networking and brand exposure. Delegates can also expect plenty of networking occasions during the summit, with a number of dinners taking place in the evenings.
The event will also host three award evenings, catering to the gaming, emerging tech, and marketing verticals. In addition to handing out accolades, the awards will also host a charitable auction, the proceeds of which will be diverted to SiGMA Foundation – the company's charitable arm.
The summit will incorporate SiGMA Group's emerging tech and affiliation brands; AIBC and AGS. This cross pollination between the verticals brings added value to delegates looking to explore new opportunities in complementary frontier sectors.
Asia Awards 2022:
The Asia Awards will be held during the first edition of SiGMA Asia. Alongside premier networking opportunities, the gala event brings together luminaries in the industry for an evening of recognition and celebration of achievement, attracting a guest list of over 300 esteemed individuals to its inaugural debut. Give recognition where it's due by nominating someone whose work has created a positive impact on the industry. You can join us and witness the most intriguing and creative projects
changing the face of the sphere. Book a seat at the Asia Awards by sending your request here [email protected]
Early bird's tickets have been extended until 15th of April.