Conversion Conf, April 2023, Warsaw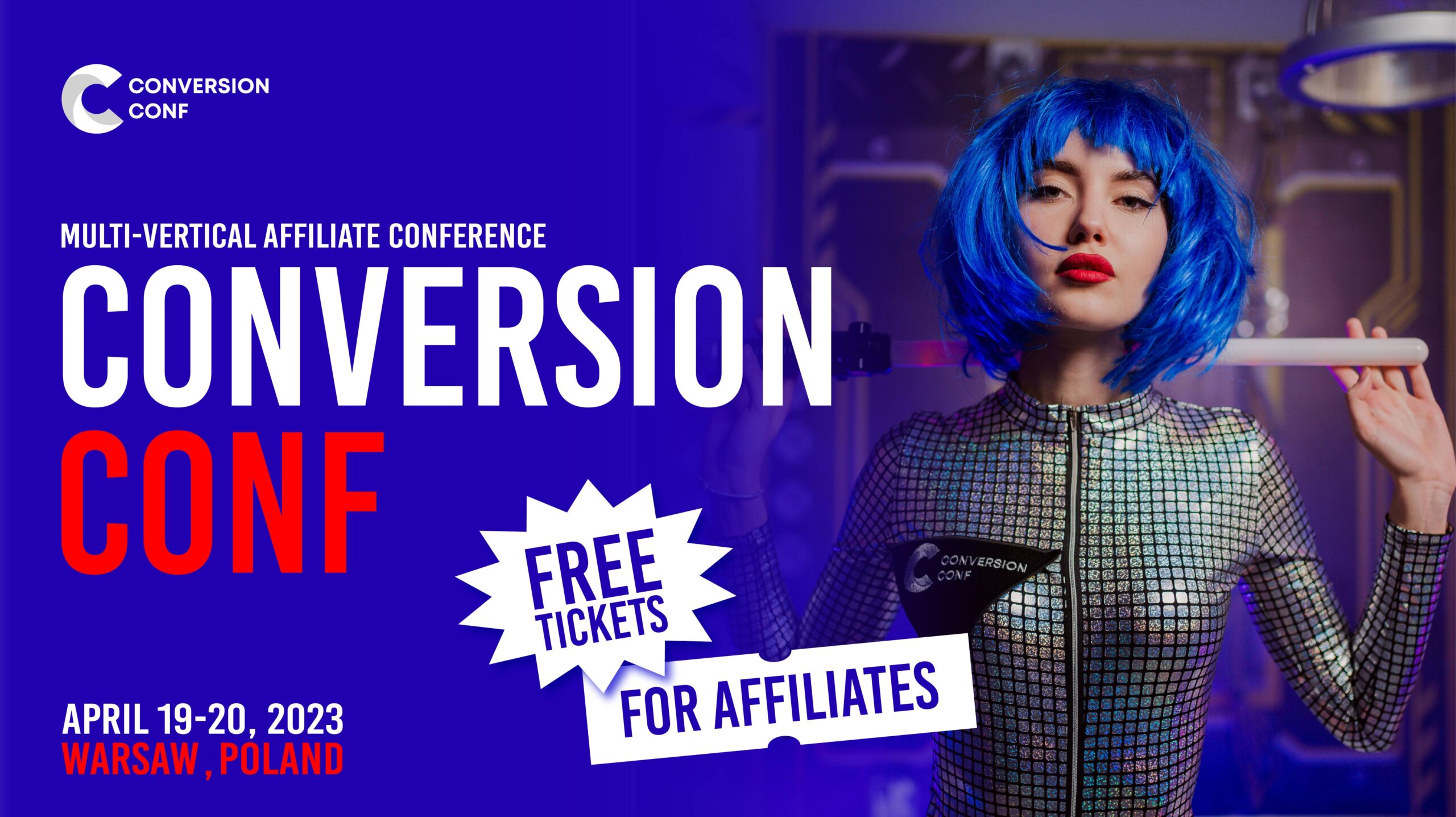 The multi-vertical affiliate conference Conversion Conf, organized by Conversion Club, is tailored to experts and thought leaders in Finance, Nutra, Dating, iGaming, and E-commerce. With a robust attendance of 1500, 28 speakers, 4 discussion panels, and an official afterparty, this conference promises to be a dynamic and informative event for anyone involved in affiliate marketing.
WHEN AND WHERE?
▪️ April 19-20, 2023
▪️ Warsaw, Poland
▪️ Special offer: free tickets for affiliates 🎫
The conference will be held on April 19-20, 2023, at the EXPO XXI in Warsaw, Poland, an easily accessible location for attendees from around the world, and the beautiful city of Warsaw provides a vibrant and exciting backdrop for the event.
The lineup of speakers and discussion panels is one of the most exciting aspects of Conversion Conf. Attendees can learn from some of the most successful and innovative professionals in the field, with experts from a variety of industries like Alex Slobozhenko, Tim Burd, iAmAttila, Vera and Oleksandr TraffBraza, Inna Gagarin, Sasha Klim, Alexander Belov, chairman of Blockchain, representatives from Google, Pin-up Partners, ClickDealer and other well-known affiliate companies. Whether you're interested in E-commerce trends or the finer points of Nutra marketing, Conversion Conf has got you covered.
WHAT TO EXPECT?
▫️ Meet 1500 attendees
▫️ Learn from 28 top-notch speakers
▫️ Network at the official afterparty
Apart from the formal sessions, attendees will also have plenty of opportunities to network and connect with each other. From the official afterparty to casual conversations during breaks, there will be ample chances to establish new relationships and learn from others in the industry.
For affiliates, Conversion Conf presents a unique opportunity. With free tickets available, this is an incredible chance to attend a top-tier conference without spending a fortune. If you're involved in affiliate marketing and seeking to elevate your business to the next level, this is an opportunity you can't afford to miss.
In conclusion, Conversion Conf is a must-attend event for anyone involved in affiliate marketing. With an impressive lineup of speakers, discussion panels, and networking opportunities, attendees are sure to come away with valuable insights and connections that can take their businesses to new heights. For more information and to purchase tickets, visit the Conversion Conf website today.