All the best is yet to come in Singapore: Blockchain Fest 2022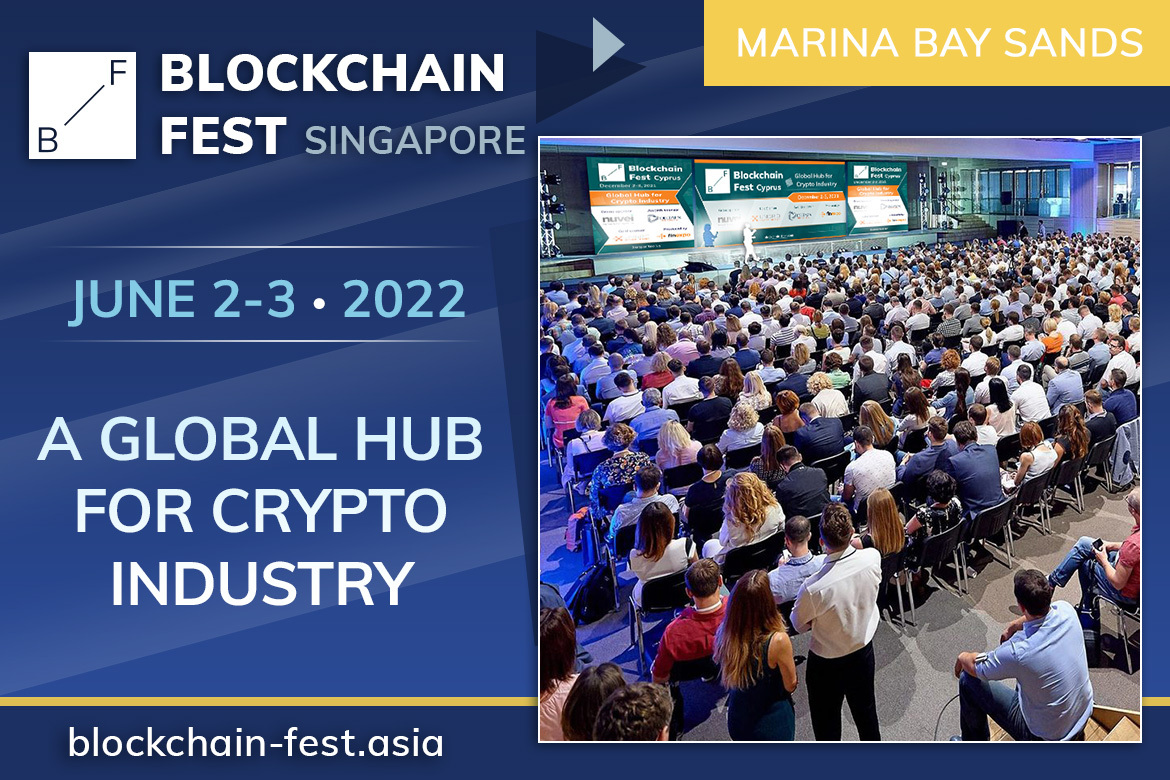 Date – June 2-3, 2022
Venue – Marina Bay Sands, Singapore
Website: https://blockchain-fest.asia
A two-day hybrid Blockchain Fest in Marina Bay Sands will be a leading Asian gathering of senior decision-makers discussing the impact of blockchain and crypto technologies on industries.
Bitmedia is thrilled to be a Media Partner at Blockchain Fest – 2022. STS 2022 is the largest event in Asian region, bringing together significant blockchain communities all across the globe.
The event will bring together tech visionaries, entrepreneurs, investors, developers, industry enthusiasts, among others, and offer a jam-packed program with exciting keynotes, panel sessions and fireside chat sessions on such trending topics as State of crypto regulation in Singapore and the region and How blockchain will change business.
This Fest will host only prominent speakers who present their own exclusive perspective on the future of the most fast-growing industries in the world.
Some of their names are
David Ogilvy – Head of Custody Innovation at Celsius Network,
Andy Meehan – Chief Compliance Officer Gemini APAC,
Anndy Lian – Intergovernmental Blockchain Expert.
Best Selling Book Author and lots of other experienced speakers.
This year attendees of the Blockchain Fest will gain valuable insight into:
• Centralized (CEX) vs Decentralized (DEX) exchanges
• Decentralized Blockchain Protocols and Smart contracts. Current trends and challenges
• How venture firms are investing in DeFi
A detailed list of delegates and topics can be found on the website.
Singapore is the most crypto-friendly environment and a real center of modern financial Asia inviting companies from Europe and the world to join the event. Local regulators have done a great deal to nature the blockchain industry. They encouraged blockchain technology development and innovative crypto exchanges and trading.
Blockchain Fest in Singapore is the place where you will have 100% satisfaction guarantee to find experts from blockchain, digital assets and fintech that will share unique opinions or advice from those who have done it before or meet your future partner for mutually prosperous and continuous partnership.
Organizers of the event pay attention that online, standard, business and VIP tickets are already available on the official event website https://blockchain-fest.com
For more information and latest updates join the event on social media:
Facebook https://www.facebook.com/BlockchainFest.asia
LinkedIn https://www.linkedin.com/groups/9109604/
Telegram https://twitter.com/blockchain_fest
Twitter https://twitter.com/blockchain_fest
#BSFG #BFSG2022 #BlockchainFest
Produced and brought to you by FINEXPO, organizer of financial conferences, forums, summits, exhibitions, shows, festivals, fairs and awards since 2002, with a community of over 100,000 crypto & forex participants
Contact Blockchain Fest at
+357 95536475
Laura Mirnaya
PR
Visit Website