Don't Miss the 11th Blockchain & Bitcoin Conference Moscow – 2022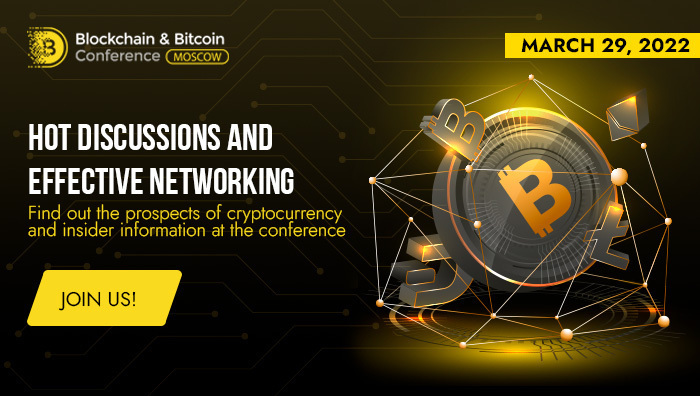 Great news! Registration to the eleventh Blockchain & Bitcoin Conference Moscow
Event on Crypto Market Trends Will Take Place This March. Registration is Available is already open. Hurry up to get your ticket before the price increase.
Bitmedia is thrilled to be a Media Partner at 11th Blockchain & Bitcoin Conference Moscow 2022
The event will take place on March 29ю The conference on cryptocurrencies, blockchain and mining will traditionally unite top managers of companies, lawyers, representatives of government agencies, investors, business owners, developers, crypto enthusiasts and many others who are interested in new ways of making money and integrating technologies.
You will see the analysis of the most relevant topics of 2022, heated discussions and of course, only the most effective networking among the best experts.
What will be discussed at the conference this spring
The event will be attended by industry professionals, whose portfolio includes many practical cases and successfully implemented projects.
Meet the first speakers of Blockchain & Bitcoin Conference Moscow 2022:
Alexey Minaev – Deputy Director of the Department of Digital Economy Development at the Ministry of Economic Development of the Russian Federation.
Mikhail Uspensky – Deputy Chair of the Board of the Chamber of Tax Consultants of Russia, digital lawyer of 2020.
Konstantin Salnikov – co-founder and CEO at Credentia.
Sergey Sergienko – co-founder of the CGU gaming platform, where people earn money by upgrading the skills of NFT characters. At the start, the project raised $5 million in investments;
Experts will talk about the transformation of the decentralized finance market, the impact of digital ruble on the cryptocurrency industry, the prospects of GameFi, NFT and metaverses. They will also share working trading strategies, consider the main difficulties in the development of SSI technology, and analyze the possibilities of corporate digital currency.
A complete list of speakers and topics of their presentations are available on the conference website.
Panel discussions
The eleventh Blockchain & Bitcoin Conference Moscow will host three panel discussions.
Experts will talk about taxes and bans for cryptocurrency owners, share forecasts for the development of green mining, and analyze whether DAOs can compete with traditional organizations.
Top experts will give a comprehensive assessment of the most important events for the industry and answer questions from the audience.
Find out the main insights of the crypto market at Blockchain & Bitcoin Conference Moscow 2022!
Join and get access to expert information, exchange ideas, make useful contacts, find partners or investors!
And don't forget your QR codes for attending the event. See you in March! It will be useful and interesting.
Register here!